+ Parish Schedule for the Week of September 30, 2018 +
Sunday, September 30 [Twenty-Sixth Sunday of Ordinary Time]:
8:00 am – Health & Blessings for Isaac Filipi – int. Mazzer Family
10:30 am – Health & Blessings for Jim & Cyndi Newcombe – int. Henry Gaida
4:00 pm – Vespers (E.F. 19th Sunday after Pentecost)
Monday, October 1 [St. Therese of the Child Jesus]:
8:00 am – Health & Blessings for Dennis Vu – int. Henry Gaida
Tuesday, October 2 [St. Camillus and St. Peregrine Novena/Holy Guardian Angels]:
5:30 pm + Henry G. Boucher, Jr. – int. Parish
Wednesday, October 3 [St. Jude Novena]:
5:30 pm + Henry G. Boucher, Jr. – int. Parish
Thursday, October 4 [St. Francis of Assisi]:
5:30 pm – Health & Blessings for Wid Perry – int. Henry Gaida
First Friday, October 5 [St. Faustina Kowalska/Bl. Francis Xavier Seelos]:
Recitation of the Litany to the Sacred Heart of Jesus will follow Mass
5:30 pm – Health & Blessings for the Marian Sisters of Santa Rosa
– int. Ron & Monica Scherman
First Saturday, October 6 [St. Bruno/Bl. Marie Rose Durocher]:
The Holy Rosary will be recited before Mass, Exposition of the
Blessed Sacrament, Litany of Loreto and Benediction following Mass
8:00 am + Henry G. Boucher, Jr. – int. Parish
4:00 pm + Lawrence & Helen Pelletier – int. Joyce & Tina Phillips
6:00 pm (Spanish) – For our Parish and Parishioners
Sunday, October 7 [Twenty-Seventh Sunday of Ordinary Time]:
8:00 am + Henry G. Boucher, Jr. – int. Parish
10:30 am + Living & Deceased Members of the Holy Rosary Society
* 2:00 pm – Rosary Coast to Coast Rally and Procession *
THE SANCTUARY LAMP THIS WEEK, burns in memory of Charles &
Blanche Gibowicz at the request of Robert & Tessie Gibowicz. Wieczny
odpoczynek racz im dać, Panie, a światłość wiekuista niechaj im świeci na wieki
wieków. Amen. Niech odpoczywa w pokoju. Amen.

ROSARY COAST TO COAST: Please join us for The National Day of Prayer for Our Nation — a "Mini Pilgrimage" – as we beg Mary for her protection and guidance for our Country and the Church in these difficult times!  This event will take place at Our Lady of Czestochowa Church, 84 K Street, Turners Falls as we participate in the "Rosary Coast to Coast Rally" which will take place on Sunday, October 7th, the Feast of Our Lady of the Rosary, from 2:00 – 4:30 p.m.  This event is in union with parishes across the country participating in this National Day of Prayer for our Nation. Our program will include:  a reflection on "Mary: Our Shelter in the Storm" and a Eucharistic Procession of public witness and penance down Avenue A to the banks of the Connecticut River for the recitation of the Rosary and Benediction at 4:00 p.m.  For more information, please contact Joy Pelc at rjpelc@comcast.net.  For more information on the countrywide Rosary Coast to Coast, please visit rosarycoasttocoast.com.
THE HOLY ROSARY SOCIETY will gather as a body for the 10:30 a.m. Mass on Sunday, October 7th. Following the Mass they will have a meeting with a Pot Luck dinner in the church undercroft. Circles 1 & 2 will host.
LADIES OF OUR PARISH interested in the Sisterhood of the Holy Rosary Society are invited to our meeting on Sunday, October 7th in the morning following the 10:30 Mass in the church undercroft.

MONDAY, OCTOBER 1st is the Feast of the Little Flower – St. Thérèse of Lisieux, the young Carmelite nun who urged all to follow the "Little Way" of perfection to Jesus by dedicating all actions, all time, all thoughts, all words – by dedicating and directing everything, no matter how insignificant, to Jesus Christ. St. Thérèse promised that she would "spend her heaven doing good on earth." She is an unfailing Patroness to those in need. She will be remembered in the Mass at 8:00 a.m. Her relic will be venerated after the Mass.
TUESDAY, October 2nd is the Feast of the Guardian Angels who are assigned to each of us as our special protectors, counselors, and patrons. The simple prayer below illustrates the intimate relationship of our Guardian Angel to us:
Angel of God, my Guardian Dear, To whom His love commits me here,
Ever this day be at my side, To light and guard, to rule and guide. Amen.
THE WEEKLY ST. JUDE NOVENA takes place on Wednesday, October 3rd at the 5:30 p.m. Mass. All are invited to take advantage of this opportunity to enlist the help of the saint of impossible cases.

THURSDAY, OCTOBER 4th is the Feast of St. Francis of Assisi who renounced his family and wealth to follow a life of poverty and love. He founded the Friars Minor, the Poor Clares and the Third Order. He was a poet and a mystic. He lived with the Stigmata of Christ and is known as the Patron of Italy. He will be remembered in the Mass at 5:30 p.m. The Blessings of Pets will take place outside the church at 3:30 p.m.
FRIDAY, OCTOBER 5th IS THE FIRST FRIDAY of the month in honor of the Most Sacred Heart of Jesus. The Mass will be offered at 5:30 p.m. followed by the Litany to the Sacred Heart. Confessions will take place before the Mass starting at 5:00 p.m.
FRIDAY, OCTOBER 5th is the Feast of Bl. Francis Xavier Seelos, a Redemptorist priest, who was beatified by Pope John Paul II in the Solemn Jubilee Year 2000. Father Seelos possessed great mystical gifts due to his intense prayer life. His dedication to ministry with cheerful holiness makes him still an outstanding model for clergy, religious and laity alike. As an itinerant preacher and lifelong friend of the poor and destitute, Blessed Seelos was a spiritual father to tens of thousands. Despite his early death at age 48, so profound was his missionary zeal that sickness, persecution, and even the upheaval caused by a civil war could not stop him. He will be remembered in the Mass at 5:30 p.m.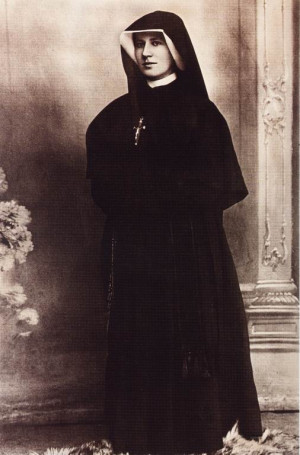 FRIDAY, OCTOBER 5th is also the Feast of St. Faustina Kowalska, known as the Apostle of Divine Mercy. Throughout her life, she reported a number of visions of Jesus and conversations with him, which she wrote about in her diary, later published as the book Diary: Divine Mercy in My Soul. She will be remembered in the Mass at 5:30 p.m.
SATURDAY, OCTOBER 6th is the Feast of St. Bruno. St. Bruno was a monk who sought "to seek God assiduously, to find God promptly and to possess God fully." He founded the Carthusians whose motto is "while the world changes, the Cross stands firm." He will be remembered in the Mass at 8:00 a.m. (Say a prayer for the soul of Fr. Bruno Cocuzzi who helped out so often in our parish!)
OCTOBER 6th IS ALSO the Feast of Bl. Marie-Rose Durocher. Born in St. Antoine, Quebec, she began the first Canadian parish sodality for young women and also founded the Sisters of the Holy Names of Jesus and Mary for Christian education. She will be remembered in the Mass at 8:00 a.m.

SATURDAY, OCTOBER 6th IS THE FIRST SATURDAY OF THE MONTH in honor of the Immaculate Heart of Mary. The Holy Rosary will be recited before the 8:00 a.m. Mass. Mass will be followed by Exposition of the Blessed Sacrament, Litany of Loreto, and Benediction. Confessions will be available at 7:30 a.m.
THE PRO-LIFE NOVENA will continue on Saturday, October 6th before the 8:00 a.m. Mass. All are welcome to pray in supplication for an end to the violence of abortion and in reparation for our lack of love which makes abortion acceptable in our nation.
A FRIENDLY REMINDER: Confessions are heard daily one half hour before each Mass. Try to arrive early for confession to allow Father enough time to prepare for Mass. Thank you!
OUR LADY'S HOLY ICON will visit the home of Kathi Hoszkiewicz for a week of prayer and petition for the needs of our Parish. We thank you for this holy work of power and love.
AN ADULT RELIGIOUS EDUCATION – Please join us for a study and discussion of the great classic apologetics text Theology and Sanity. Classes are held on Sundays from 9:00-10:00 a.m. in the undercroft of Ste. Anne x (93 K Street – grey house across from the rectory). Classes begin September 17th. Books will be available for purchase and coffee and pastries will be provided. We look forward to seeing you there. For more information contact Joseph Milano.
COFFEE HOUR – For those of you are waiting for your children during C.C.D. classes – and for anyone else who can join us for that matter – there will be a weekly Coffee Hour at the Rectory following 8:00 Mass (from 9:00 – 10:00). Please come by for a cup of coffee, some home-made baked goods, and friendly company. Please use the side door of the Rectory.
PRE-KINDERGARTEN CLASSES for ages 3 and 4 are offered on Sundays at the rectory from 9:15 – 10:00 a.m. Parents can enjoy the coffee hour while the children will enjoy each other's company and learn about the Faith.
The Teresians are still looking for a few good men, women, or families willing to join us in the spiritual and corporal works of mercy.  Out latest project is collecting "toiletries" from hotels.  These will be offered at the OLC community meals.  There is a marked container in the vestibule.  Do NOT buy them.  If you want to buy something, consider groceries for distribution from the rectory.  Nancy Faller (nafaller@aol.com)
ATTENTION ALL OUR CHRISTMAS ELVES! It is not too early to plan your crafts and gifts for our annual St. Nicholas Bazaar which will be held on Saturday, December 2nd this year. Plan now!
ST. JOSEPH PARISH IN SHELBURNE FALLS will hold a "Country Christmas Fair" on Saturday, November 10 from 9:00 am – 2:00 pm and Sunday, November 11 from 9:00 am – Noon at the Shelburne-Buckland Community Center on 53 Main Street. The fair will offer unique country crafts, sewn, crocheted and knitted items, hand-made dolls, hand-painted Christmas ornaments and home décor, Stained glass works, home-made candies and bake goods, Attic Treasures, themed gift baskets for sale, Buckland's famous J. G. Haigis Baloney and Tea Cup Auction. A big raffle featuring a $150 Cash Prize, a $75 gift certificate to West End Pub and a $75 gift certificate to the Blue Rock Restaurant & Bar (both located in Shelburne Falls) will round out the offerings. A delicious choice of lunch items will be available of Saturday. Get Your Christmas shopping done early! For more information call (413) 625-6405.
THE MASS BOOK FOR 2019 is now ready for those who like to book their church or mission Masses in advance. To have a Mass said for a loved one is a beautiful prayer for their souls. At Our Lady of Czestochowa, you have an opportunity to have a Mass said at the church or sent to the missions. Both Mass types are published in the bulletin every week. You may send in requests for Masses by mail or by dropping your requests in the collection basket. You may also call in a Mass to the rectory—if no one is in the office you may leave a message. When requesting a Mass, please record the type of Mass you want (church or mission), if you want a specific date or time, write out the name/names clearly, indicate who the Mass is from, and finally the money. We try to honor the dates and times as much as possible—if you have alternative dates or times, please indicate them also. The basic stipend is $10 for a church Mass and $5 for a mission Mass. Please note that with many different people counting the collection monies, sometimes a Mass request gets into the wrong account because it is not clear where the money or request belongs, so, if you drop your Mass request or Mass payment in the collection basket, please make sure it is in an envelope, and the envelope states that it is for Masses. It is not recommended to use an extra church envelope or a Renovation Fund Card for this because it will cause confusion and you might not get your request! Thank you for these considerations.
Footsteps of Thérèse: Brother Marcel Van
Vietnamese Redemptorist followed the 'Little Way'
and endured much suffering in his short life
Jim Graves

Catholicism was first introduced to Vietnam by European missionaries in 1533. Despite periods of intense persecution, a significant portion of the population took to the Catholic faith. Today, 7 percent of the country is Catholic, with another 500,000 Vietnamese Catholics relocating to the United States after the Vietnam War.
The Church in Vietnam has produced many heroic figures, most notably martyr St. Andrew Dung-Lac and his companions, who were canonized by Pope St. John Paul II in 1988. Another Vietnamese Catholic gaining in notoriety is Servant of God Brother Marcel Van (1928-59), a mystic who adopted St. Thérèse of Lisieux's "Little Way" to achieve great holiness in his short life.
Jack Keogan, an Englishman who has translated Van's writings into English and who shares Van's story through the website MarcelVanAssociation.com, said after first reading about Van, "I have never encountered a story of such tender love, courage, steadfastness and humor, expressed in often lyrical terms."
Catholic author Suzie Andres, who writes a "Miss Marcel's Musings" blog about Van, noted that Van was "human and small as we are, just as forgetful, just as unlikely a saint as each of us. And yet he had such natural communications with Jesus, Mary and Thérèse — his own favorite saint — that he inspires us to try and do the same."
Early hardships
Van was born in the Catholic village of Ngam Giao in northern Vietnam. He had a devout Catholic mother and was attracted to the Faith and devoted to the Blessed Mother from a young age. He wanted to be a priest and share his faith with nonbelievers.
He experienced many hardships growing up, both at home and in school. His older brother, Liet, for example, was blind, which prompted his father to begin drinking heavily and start gambling. Flooding destroyed the family's rice farm, leaving them impoverished. His deep spirituality led some at his Catholic school to envy him, leading to physical abuse. Keogan, in fact, related the story told to him by a parish deacon in Coventry, England, who, while reading Van's autobiography, "was so moved by the cruelty of his teachers that he had to put the book down and go upstairs to reassure himself that his sleeping little boy was sleeping soundly."
Van entered the minor seminary with the French Dominicans in 1942. The Dominicans introduced Van to "The Story of a Soul" by St. Thérèse of Lisieux (1873-97). He enjoyed a unique spiritual relationship with St. Thérèse for the rest of his life, becoming her "little brother." Keogan noted that Van had a "dogged determination" to become a priest, yet "it was left to St. Thérèse to break the news to him that it was God's will for him that he would not become a priest, but that his vocation was to be the 'heart of priests.'"
In 1944, at age 16, Van became a brother in a Redemptorist monastery in Hanoi. He wore the habit and took the name Brother Marcel, and served as both tailor and sacristan for the community. It was during this time that he claimed to have mystical conversations with Jesus, and recorded his revelations under the guidance of the novice master, Father Antonio Boucher.
Andres said, "Marcel's conversations with Jesus were what mesmerized me. I am not a huge follower of private revelations, but there was something about Jesus' voice that captured my heart and made it quite clear that this was authentic."
She continued, "Marcel is constantly joking with Jesus, teasing and being teased by him, forgetting what [Jesus] says, not understanding what he is writing down, and answering Jesus' deepest theological revelations with complaints about his little pains and troubles. And to this, Jesus responds with a combination of laughter, love, tenderness and compassion."
Van also had conversations with the Blessed Mother and St. Thérèse, from whom he developed his "little way of spirituality."
Van moved to different communities within the country and made his final profession in 1952. In 1954, the Communists took over North Vietnam, and many Catholics fled to the south. Van received permission to move to the north, however, as he sought to love God in a place where there was little love for him. He was arrested and sent to prison in 1955, and died four years later. He was 31.
Abundance of writings
Despite his young age at death, Van left an abundance of writings behind, much of it written under obedience to his superiors. These include his autobiography, correspondence and miscellaneous writings. While the material originally was written in French, Keogan began translating the writings into English more than a decade ago. He noted, "As soon as I began translating I could not believe the treasure I was unearthing as the words unfolded under my eyes. I wanted to tell anyone who would listen, and probably many who were not so keen on listening, of the story of love, courage, humor and harrowing cruelty which was evolving."
Andres describes Van's "conversations" as being like "getting a doctorate in prayer." She continued, "This is not too surprising since his teacher in how to relate to God was St. Thérèse, and she is actually a Doctor of the Church. Marcel learned her lessons well, and he wants to teach them to us, too."
Keogan added, "Not only do the conversations take our breath away by their endearing affection, but they are constantly interrupted by Jesus' insistence that these messages of the love of God are meant for all of us." – http://www.osv.com
THE FOLLOWING MASS INTENTIONS have been sent to various Missionaries. They will be offered as follows and you may attend the Masses here in our church as the Missionaries offer the Masses in their churches:
Sunday, September 30: 10:30 + Edward Pleasant – int. Edith Bourbeau
Wednesday, October 3: + Leon Piecuch – int. Niece, Carol
Thursday, October 4: – Health & Blessings for Henry Gaida – int. An Appreciative
Parishioner
Saturday, October 6: 4:00 + Joseph Klepadlo – int. Irene and Family
PLEASE NOTE: The above Masses not only assist the souls for whom they are offered, but they also help the Missionaries who often times receive very little help. It also helps the people where the Masses are offered. Bóg wam zapłać!
FOR THE GLORY OF GOD and in memory of Daniel Dowd, a donation has been made to our Parish Renovation Fund by David E. Dowd. Bóg zapłać!
website: ChroniclesofCzestochowa.wordpress.com Like us on Facebook
ANNUAL HOLIDAY CRAFT FAIR Sponsored by: SS Peter & Paul Rosary Sodality of Divine Mercy Parish: Saturday, November 10th, 9:00 am – 3:00 pm at the Parish Center, Main Street, Three Rivers, MA. Free Parking and Free Admission! One of the area's longest running Craft Fairs. Come and see what makes us special! We have beautiful craft items by talented local artists. Refreshments. Join us for Lunch!
177 Project — Evening of Adoration This fall, the 177 Project is partnering with 22 different artists to bring an evening of Eucharistic Adoration and music to every single diocese in the US!  On October 6th, they'll be at St. Michael Parish in Brattleboro, VT and they want you to join them. Tickets to the evening are completely free and can be found at www.itickets.com/events/402201.
THE KNIGHTS & LADIES OF ST. PETER CLAVER will hold their First Annual Christmas Bazaar on Saturday, October 27th, 2018, at the Bishop Marshall Center at St. Michael's Cathedral. If anyone would like to rent a table, please call Lady Joy Danita Allen at 413-204-1553. The deadline for table rentals is October 1st—Don't wait 'til the last minute!
Alternatives Pregnancy Center – Pregnancy Tests, Counseling, Support Services, and Post Abortion Support, All Services Free and Confidential, 466 Main Street, P.O. Box 344, Greenfield, MA 01302-0344 — (413) 774-6010
The more a person loves God, the more reason he has to hope in Him. This hope produces in the saints an unutterable peace, which they preserve even in adversity, because as they love God, and know how beautiful He is to those who love Him, they place all their confidence and find all their repose in Him alone. ~ St. Alphonsus Liguori
Annual Scholarship Fashion Show – The Polish Junior League of Massachusetts will hold its Annual Scholarship Fashion Show at 12:00 noon on Sunday, November 4, 2018 at the Castle of the Knights Banquet Hall, 1599 Memorial Drive in Chicopee. Fashions will be provided by The Little Black Dress in Enfield, and all proceeds will be awarded to college students of Polish heritage. Tickets are $33 and include a choice of three lunch entrees. Deadline for tickets is October 19, 2018. For information and tickets, please call Kathy at 413-243-2228.
ST. BERNADETTE LEARNED TO SAY the rosary at an early age. It was no accident that she had it in her pocket when the Blessed Mother first appeared to her. It was a part of her life. Sometimes when I reflect on how religion plays little or no part in the lives of our young people, I say to myself, "Why is it so hard for parents to teach their children simple prayers, like the Sign of the Cross? Or a prayer like "Now I lay me down to sleep, I pray the Lord my soul to Keep. If I should die before I wake, I pray the Lord my should to take."
When I was a parish priest, in visiting my parishioners I was sometimes saddened to see that there was not even a crucifix on the wall of the home I was visiting. Someone once observed. "If you were accused of being a Christian and living in a country where being a Christian was against the law, would there be enough evidence in your home to bring you to court?" -Rev. Roland Lacasse, s.m.
VISIT http://diospringfield.org/Ministries/child-youth-protection/ for resources for child abuse prevention and reporting.
Turning Towards the Lord:
Mass Ad Orientem
The following Sermon was delivered on the Feast of Our Lady of Czestochowa, on August 26th, 2015, by Fr. Charles DiMascola, then-Pastor of our Parish.
When I was in Poland at the monastery of Our Lady of Czestochowa, I noticed that the priests all said Mass facing the tabernacle and the miraculous icon of Our Lady of Czestochowa. I remember, at first thinking, "how old fashioned," and then as the Mass continued I remember thinking, "how holy." I was able to focus on Jesus and the Mass, and not on the priest and his personality. I found that I liked it.
When the Mass is celebrated this way it is called "ad orientem, ad Dominum" which means "toward the East, toward the Lord." The priest offers Mass facing the same direction as the people, because he and the people together are offering worship and sacrifice to God. He is not turning his back on the people to exclude them. Rather, as a Christian community, are all facing ad orientem, ad Dominum (i.e. toward the East and toward the Lord) waiting in joyful expectation for the coming of our Lord Jesus Christ, who will someday return to judge the living and the dead.
Of course, I thought that Vatican II had mandated that Mass should be celebrated facing the people. To my surprise, I as I studied the matter I found that that was not the case. In fact as I carefully read the rubrics, or the rules, for celebrating Mass, I noticed that there are several places where it says that the priest will now turn to the people. Why would it say that if the priest was already facing the people? The simple answer is that the priest may say Mass facing the people or facing East with the people.
Then I found out that Pope Benedict and even Pope Francis on a number of occasions celebrate Mass "ad orientem!" I also found out that a number of bishops have regularly scheduled Mass celebrated this way. Well, that was an eye opener.
I found that the symbolism of the Mass celebrated this way is very beautiful. Someone described it as a general leading his soldiers in battle. Or better, the Priest is, as a shepherd, leading his people to God. Because the priest is offering the Mass in Christ's name and in His Person, in persona Christi, to God the Father he then leads his people in adoration and worship. He is, with the people, facing East, the rising sun, which is symbolic of the 'New Jerusalem' and he is leading his flock as the Good Shepherd does. When he needs to address the congregation he turns to face the people and says, for example, "The Lord be with you" or "Pray, brethren".
I have celebrated Mass "ad orientem" a number of times and I have found that it helps me to be much more focused and prayerful. I am not distracted by people coming in late or moving about in the pews. I have also attended Mass where the priest offers Mass "ad orentem" and I noticed that I was able to be more prayerful and reflective because I wasn't so focused on the person and personality of the priest.
Celebrating Mass "ad orientem" has a lot of benefits and is one of the many options we have available in the Church. A lot of parishioners have asked that we do this from time to time, so for today, at least, for the feast of Our Lady of Czestochowa, we will be celebrating the Mass "ad orientem."
A UNIQUE PILGRIMAGE: We would like to have you join our pilgrimage to the Missionaries of the Poor in Kingston, Jamaica. We will have the opportunity to share in the Prayer, Life, and Ministry of these wonderful Brothers as they bring the compassionate mercy of Christ tot eh physically, emotionally, and economically poor of Jamaica. The dates are January 9 – 27. You have the option of going for one week, either the 1st or 2nd, or for both weeks. If you are interested or would like more information, please reply by e-mail to jackroach1@verizon.net or call Fr. Roach at 413-624-5508. Since there is limited space in the Visitor's Monastery, please respond by August 30th. Thank you!
HOLY TRINITY ROSARY SOCIETY Fall Tag, Rummage, and Bake Sale will take place on Friday, October 5th from 9:00 a.m. to 2:00 p.m., and Saturday, October 6th, from 8:00 a.m. to 1:00 p.m. in Father Casey Hall at Holy Trinity Church, 133 Main Street, Greenfield, Mass. Luncheon available each day from 10:30-1:00. Bag Sale at 12:00 Noon, Saturday. Sponsored by the Holy Trinity Rosary Society.
Eternal Rest Grant Unto Them O Lord,
And Let Your Perpetual Light Shine Upon Them.
Anna Zukowski 9/30/1945
Tekla Bocon 9/30/1968
Helen F. Parker 9/30/2012 Joseph Simanski, Sr. 10/1/1991
Eugene J. Klepacki 10/2/2002
Joseph Dlugosz 10/3/1945
Johnny M. Botch 10/3/2016
Henrietta Zalynski 10/4/1969
Lorraine Donnelly 10/4/2004
Helen A. Czernich 10/4/2006
Stella F. Pelis 10/4/2009
Stephen John Krejmas 10/4/1944
Sukcha Reynolds 10/5/1998
Henry Bocon 10/5/2005
Stanley A. Garanin 10/6/1998
Helen M. Kruczek 10/6/2009
Anna Zywna 10/7/1966
Stanley J. Wojtasiewicz 10/7/1978
Catherine A. Byk 10/7/1982
Anna Noga 10/7/1991
Elizabeth M. Pagano 10/7/2006
S. Henry Milonas 10/7/2012
Remember the Holy Souls in Your Prayers
DID YOU KNOW??? In October 1978, the Bishop of Kraków, Poland, Cardinal Karol Józef Wojtyla, became Pope John Paul II, the 264th head of the Roman Catholic Church on October 16, 1978 at 5:15 p.m. A mountain climbing man of letters, playwright, philosopher, intellectual, and poet, Pope John Paul II is affirmed by many as one of the chief architects of the Second Vatican Council and its document Gaudium es Spes, or Joy and Hope. He was canonized by the Roman Catholic Church on April 27, 2014.

 OCTOBER 7th is the Feast of Our Lady of the Rosary which was established by St. Pius V in thanksgiving for the saving of Europe from the invading Turks. This feast recalls the Rosary, an ancient Christian devotion with meditations upon the Mysteries of Christ presented to Mary as a garland of roses.
PLEASE NOTE that every day of the month is set aside to pray for a specific priest or deacon of the Franklin County Deanery. Please join in dedicating every day to one of the clergymen designated in our calendar. The intentions for this week are:
          Sunday            Monday           Tuesday       Wednesday
        Fr. Roach        Fr. Lunney      Fr. Campoli     Deacon Nolan
                      Thursday                    Friday                     Saturday
Clergy who are sick      Bishop Rozanski         Fr. DiMascola
THIS BULLETIN is sponsored by the St. Stanislaus and St. Kazimierz Societies.