
JMJ
+ PARISH SCHEDULE FOR THE WEEK OF JULY 28, 2019 +
SUNDAY, JULY 28[Seventeenth Sunday in Ordinary Time]:
8:00 am + George Mello – int. Kopinto Family
10:30 am + Rev. Msgr. Alphonse A. Skoniecki
MONDAY, JULY 29 [St. Martha]:
8:00 am + Mary Lou Bueno – int. Brenda Janikas
TUESDAY, JULY 30 [St. Camillus and St. Peregrine Novena/St. Peter Chrysologus]:
5:30 pm + Larry Krejmas – int. Dennis Grader
WEDNESDAY, JULY 31[St. Jude Novena/St. Ignatius of Loyola]:
5:30 pm + Mary Lou Bueno – int. Joe & Anne Basterache
THURSDAY, AUGUST 1 [St. Alphonsus Liguori]:
5:30 pm + George Mello – int. Kopinto Family
FIRST FRIDAY, AUGUST 2 [St. Eusebius of Vercelli/St. Peter Julian Eymard/
Bl. Augustus Czartoryski]:
5:30 pm + Souls in Purgatory – int. Melissa Wright
FIRST SATURDAY, AUGUST 3 :
8:00 am + Mary Antonio Rose – int. Family
4:00 pm + Lawrence Krejmas – int. Annette Krejmas
6:00 pm (Spanish) – For our Parish and Parishioners
SUNDAY, AUGUST 4[Eighteenth Sunday in Ordinary Time]:
8:00 am¬¬+ Anna La Palme – int. Daughter, Brenda
10:30 am + John & Mary Bush Zukowski – int. George Bush
+ KRÓLOWO POLSKI MÓDL SIĘ ZA NAMI +
MONDAY, JULY 29th is the Feast of St. Martha, the sister of Mary and Lazarus. St. Martha is considered the model of hospitality. She was a faithful disciple of Jesus and has been designated the patroness of housewives, waiters and waitresses. She will be remembered in the Mass at 8:00 a.m.
TUESDAY, JULY 30this the Feast of St. Peter Chrysologus, a name which means "Golden Tongued" because of his exceptional preaching ability. He will be remembered in the Mass at 5:30 p.m.
WEDNESDAY, JULY 31st is the Feast of St. Ignatius of Loyola, the founder of the Jesuits. His missionary spirit, his discipline, his love and loyalty for the Church made him a great Saint. He will be remembered in the Mass at 5:30 p.m.
THE WEEKLY ST. JUDE NOVENA will be offered at the 5:30 p.m. Mass on Wednesday, July31st. All are welcome to come and pray for the intercession of this saint who is the patron of hopeless and impossible cases.
THURSDAY, AUGUST 1st is the Feast of St. Alphonsus Liguori, a lawyer who became a priest, founded the Redemptorist Order and opposed the heresy of Jansenism by stressing Christ's love and the help of Mary. He will be remembered in the 5:30 p.m.Mass.
THE WARSAW UPRISING OF 1944 started on August 1, 1944, and during the next 63 days upward of a quarter million men, women, and children died in a hopeless battle for freedom which ended on October 3, 1944.
HOLY HOURS OF REPARATION are held twice weekly in our parish, on Thursday & Friday at 4:30 p.m., concluding with the 5:30 p.m. Mass. Please come and spend some time with Our Lord in the Most Blessed Sacrament.Please Note, however, that the will be no Holy Hour on First Fridays on account of the All-Night Vigil.
FRIDAY, AUGUST 2nd is the Feast of St. Eusebius of Vercelli, the founder of a religious order and an individual who worked tirelessly for traditional and orthodox practices and doctrines. He will be remembered in the Mass at 5:30 p.m.
AUGUST 2nd is also the Feast of St. Peter Julian Eymard, the founder of the Congregation of the Blessed Sacrament, devoted to the worship and apostolate of the Eucharist as the center of the life of the Church and society. He also founded the Servants of the Blessed Sacrament, a contemplative women's community; influenced the founding of the Eucharistic fraternity for the laity, the Association of Priest Adorers, and international Eucharistic congresses. He will be remembered in the Mass at 5:30 p.m.

THE PRO-LIFE NOVENA will continue on Saturday, August3rdbefore the 8:00 a.m. Mass. All are welcome to pray in supplication for an end to the violence of abortion and in reparation for our lack of love which makes abortion acceptable in our nation.
OUR LADY'S HOLY ICON will visit the home of Claire Hughesf or a week of prayer and petition for the needs of our Parish. We thank you for this holy work of power and love.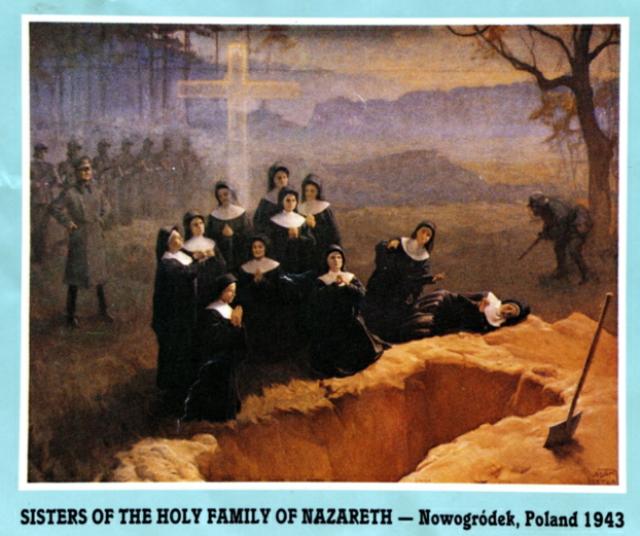 IN 1943, POLAND WAS IN THE GRIP of the Nazi occupation. Slowly, Hitler's henchmen were proceeding in their plans to eradicate the Polish race – a plan that would see over six million Polish Catholics dead. On the Northeastern frontiers of Poland, in Nowogrodek, a small convent of twelve sisters of The Most Holy Family of Nazareth offered their lives as a sacrifice for the freedom of their country. The Sisters prayed "O Lord, if it is necessary to have a sacrifice of life, accept it from us who are free from the duty of family and bring about the freedom of those who have a family." The sacrifice was offered and accepted. Shortly thereafter, the Sisters were arrested and imprisoned. On August 1, 1943, they were led into the country and to a previously prepared pit. There they were brutally shot and buried in their blood stained habits as they fell into the pit. The courage of the nuns impressed even the mad Gestapo executioners. The sacrifice was not without effect, however. In Nowogrodek all who have been arrested were released. The people, full of deep respect and gratitude for their rescuers, arranged for them a triumphant funeral and buried them in the cemetery near the church. Soon the martyred Sisters were being asked for intercession in different causes and many came to pray at their graves. Numerous graces received through the intercession of these holy nuns is an indication that their sacrifice was pleasing to God and that they are favored by His graces.
PRAY FOR VOCATIONS to the Priesthood from our Parish and for our Parish so that we might always have a Priest here to celebrate the Mass and administer the Holy Sacraments! Please join in the Divine Mercy Chaplet to pray for vocations to the priesthood every Friday beginning at 4:45 p.m.
Month of the Immaculate Heart
The month of August is dedicated to the Immaculate Heart. Since the 16th century Catholic piety has assigned entire months to special devotions. The month of August is traditionally dedicated to the Immaculate Heart of Mary. The physical heart of Mary is venerated (and not adored as the Sacred Heart of Jesus is) because it is united to her person and is the seat of her love (especially for her divine Son), virtue, and inner life. Such devotion is an incentive to a similar love and virtue.
This devotion has received new emphasis in this century from the visions given to Lucy Dos Santos, oldest of the visionaries of Fatima, in her convent in Tuy, in Spain, in 1925 and 1926. In the visions Our Lady asked for the practice of the Five First Saturdays to help make amends for the offenses committed against her heart by the blasphemies and ingratitude of men. The practice parallels the devotion of the Nine First Fridays in honor of the Sacred Heart.
On October 31, 1942, Pope Pius XII made a solemn Act of Consecration of the Church and the whole world to the Immaculate Heart. Let us remember this devotion year-round, but particularly through the month of August.
Excerpted from The Prayer Book by Reverend John P. O'Connell, M.A., S.T.D. and Jex Martin, M.A.
Consecration to the Immaculate Heart
Pope Paul VI, on the floor of the Vatican Council at the close of the third session, renewed publicly the consecration of the Church and the world to Mary's Immaculate Heart. He said that his thoughts turned to the whole world "which our venerated predecessor Pius XII . . . not without inspiration from on high, solemnly consecrated to the Immaculate Heart of Mary. . . . O Virgin Mary, Mother of the Council, to you we recommend the entire Church." When he visited Fatima on May 13, 1967, the same Pope recalled this "consecration which we ourselves have renewed on November 21, 1964 — we exhort all the sons of the Church to renew personally their consecration to the Immaculate Heart of the Mother of the Church and to bring alive this most noble act of veneration through a life ever more in accord with the divine will and in a spirit of filial service and of devout imitation of their heavenly Queen."
Before making a consecration it is most desirable to make a careful preparation extending over some period of time. One good way to make that preparation is described in the last part of St. Louis de Montfort's True Devotion book.
The most essential thing is not making an act of consecration, with or without some solemnity, though that is important. The essential thing is to live that consecration.
Living a consecration could be described as following three attitudes or spirits:
Union — Imitation of Jesus and Mary, so as to become like them, and trying to develop as constant as possible a realization of His and her presence.
Dependence — Give to Jesus and Mary the right to dispose of everything we have, temporal and spiritual.
Obedience — Jesus and Mary have the right to ask us to do anything at all, even without reward. In consecration, we recognize that right, give it on a basis of love, and plan to carry it out with fullest generosity.
St. Maximilian Kolbe liked to speak of the relation of consecration to our baptismal promises, in which we promised to renounce Satan and all his works, and to follow Jesus, by whom we are "sealed" in baptism as His property. Consecration is the fullest kind of response to and carrying out of these promises. Mary, in view of her Immaculate Conception, was most fitted to respond most fully, and that she did, with a fullness and perfection beyond our ability to visualize — for we recall that Pius IX told us that even at the start of her existence, her holiness was so great that "none greater under God can be thought of, and no one but God can comprehend it."
Excerpted from Our Father's Plan, Fr. William G. Most
________________________________________
MARIAN CELEBRATION IN HONOUR OF THE MOTHER OF GODThe Franklin County Deanery is hosting their twenty-fifth Marian Celebration in honor of the Mother of God on Sunday, August 18th at Blessed Sacrament Church in Greenfield. The Celebrant and Preacher will be Fr. John Duy Anh Le. Confessions, with a number of visiting priests, will be heard from 12:45 – 2:00 p.m. A service with Eucharistic Procession, Benediction and Rosary will begin at 2:00 p.m. The service will include the crowning of Mary. There is ample parking behind the church. Everyone is welcome. For more information, call 773-3311.
OFFICE OF VOCATIONS:"Ask and you shall receive: seek and you shall find, knock and it shall be opened to you." Believe and act on Jesus' promise. Pray for wisdom to discern God's will. (Luke 11:1-13) If you think God is calling you, please email: vocations@diospringfield.org and/or visit our website: http://www.myvocation.com
The Great Pardon of Portiuncula
Portiuncula (in Italian Porziuncola) means Little Portion and is the name given to a small Chapel of Our Lady of the Angels, which was restored by St. Francis and stands in the plain below Assisi. St. Francis and his first friars built some huts near the old stone chapel and there established the headquarters of their order.
A Plenary Indulgence is granted to the faithful, who devoutly visit their parish church on the 2nd of August, when the indulgence of St. Francis, the "Portiuncula," occurs. Many extraordinary favors were granted to him in this little church. The Blessed Virgin Mary surrounded by a great host of angels appeared in a vision and designated this place to St. Francis as the cradle of all the Franciscans. Here, likewise, she implored Jesus for St. Francis the great indulgence by which the Portiuncula became famous throughout Christendom.
The Pope has granted the indulgence of the Portiuncula to the entire world if the faithful on August 2nd visit their parish church and pray one Our Father and the Creed for the intention of the Holy Father. To complete the indulgence one must be free from sin, make a sacramental confession within seven days and receive Holy Communion.
What is an indulgence? The new Enchiridion of Indulgences, issued in 1968, has the following definition: "An indulgence is the remission, before God, of the temporal punishment due for sins already forgiven as far as their guilt is concerned. This remission the faithful, with the proper dispositions and under certain determined conditions, acquire through the intervention of the Church which, as minister of the Redemption, authoritatively dispenses and applies the treasury of the satisfaction won by Christ and the Saints. An indulgence is partial or plenary, according as it removes either part or all of the temporal punishment due for sin."
________________________________________
IT'S NOT TOO EARLY to start planning for our Blessed Mother's Birthday (Friday, September 8th). As always we will have an all-day Open House/Party which will involve Exposition of the Blessed Sacrament and a continuous chain of rosaries. It is what our Blessed Mother wants. Plan on it!
WEBSITE: ChroniclesofCzestochowa.wordpress.com Like us on Facebook.
THE FOLLOWING MASS INTENTIONS have been sent to various Missionaries. They will be offered as follows and you may attend the Masses here in our church as the Missionaries offer the Masses in their churches:
SUNDAY, JULY 28:8:00 + Florence Pielock – int. Friend
SUNDAY, JULY 28: 10:30 + Joseph Kaminski, Jr. – int. Cousin
MONDAY, JULY 29: + John Kopinto, Sr. – int. Sister-in-Law
TUESDAY, JULY 30:+ Larry Krejmas – int. Dennis Grader
WEDNESDAY, JULY 31:+ Florence Pielock – int. Friend
THURSDAY, AUGUST1:– Health & Blessings for Elaine Bartus – int. Friend
FRIDAY, AUGUST 2:– Health & Blessings for Nancy Blanchard – int. Friend
SATURDAY,AUGUST3: 8:00 + Edward Went – int. Bigelow Family
SATURDAY, AUGUST3: 4:00 + Larry Krejmas – int. Dennis Grader
PLEASE NOTE: The above Masses not only assist the souls for whom they are offered, but they also help the Missionaries who often times receive very little help. It also helps the people where the Masses are offered. Bóg wam zapłać!
DID YOU KNOW THERE IS A LOCAL CATHOLIC YOUTH GROUP? The St. John Paul II Youth Group serves the high school youth of the local Catholic community—all are welcome. Our monthly gatherings are on the 3rd Sunday of the month, from 6:30-8:30 p.m., with other activities throughout the month. To learn more about what God is doing in the life of the teens and for a more complete schedule, email stjpiiyouthgroup@gmail.com or call Suzi & Ed Cottrill, 413-772-6062. "Love God, Love Others, Love Life."
GROCERIES ARE PROVIDED by our parish for those who often come to the Rectory for help and we are running a little low on some essentials. Please help us to help the poor by leaving some of the following in the church vestibule: stew, soup, ravioli, crackers, baked beans, cereal, canned vegetables, spaghetti sauce, peanut butter, and jam. All donated goods must be such as requiring no refrigeration and can be stored for a period of time. Please help those who cannot help themselves! Bóg wam wielki zapłać!
THE TERESIANS – Please consider becoming a Teresian. As we have said there is NO commitment. We will notify everyone on the ministry list (via email) when someone is sick and in need of prayer or a visit OR dying and in need of prayer or a visit OR died and the funeral details. It will be up to each individual/family to decide how they can minister. No one is expected to respond to each need. If any parishioner knows of someone in need, please email Nancy Faller (nafaller@aol.com), so we can get the word out.
________________________________________
Eternal Rest Grant Unto Them O Lord,
And Let Your Perpetual Light Shine Upon Them.
Andrew Gusan 7/29/1966
Joseph C. Koscinski 7/29/1985
Mielonia Marszalek 7/30/1945
Joseph Kosciuski 7/30/1954
Blanche J. Schab 8/1/2004
Mary Zukowski 8/2/1970
Lena M. Wissmann 8/2/2002
Edward Kabaniec 8/3/1939
Joseph Kurtyka 8/3/1949
Chester Zukowski 8/3/1970
John Niedzwiecki 8/3/1997
Josie Dora Bush 8/3/2005
Mary Ostrowski 8/4/1933
John F. Maziarz 8/4/1973
Paul Czarnecki 8/4/1973
Stella R. Sliwa 8/4/1980
William H. Gaines 8/4/2005
Frances E. Kurtyka 8/4/2010
Remember the Holy Souls in Your Prayers
________________________________________
HOLY FAMILY PARISH ANNUAL CRAFT FAIR: November 23, 2019. Interested vendors, please contact the Parish Office at (413) 665-3254 for information/application.
YOUNG ADULT RETREAT: for ages 19-35 on September 13-14, at Dumaine Retreat Cetnter in Jacksonville, VT. For more information: wgavin@vermontcatholic.org
SAVE THE DATE! Find Your Greatness with Catholic speaker, Jonathan Fanning, is coming to Springfield, MA on Saturday, September 14, 2019! Come join Holy Name Church for a great morning of listening, learning, scripture, and prayer. Find Your Greatness is based on Matthew Kelly's best-seller The Four Signs of a Dynamic Catholic. Don't worry, this is not your typical Church event! Reach your full potential, create a personal life plan, and develop a vibrant spiritual life. September 14, 2019, Holy Family Church, 323 Dickinson St., Springfield, MA 01108. 9:30 AM – 1:30 PM Get your tickets today! Call us at 859.980.7900 to reserve your tickets!
PLEASE NOTE that every day of the month is set aside to pray for a specific priest or deacon of the Franklin County Deanery. Please join in dedicating every day to one of the clergymen designated in our calendar. The intentions for this week are:
         Sunday                                 Monday                 Tuesday                   Wednesday             
         Fr. Roux              Deacon Leary              Fr. Aksamit            Deacon Bucci
                  Thursday                              Friday                            Saturday
             Bishop McDonnell                 Fr. Campoli                       Fr. Roach
THIS BULLETIN is sponsored by the St. Stanislaus and St. Kazimierz