Parish Schedule for the Week March 1, 2020 +
Sunday, March 1 [First Sunday of Lent]:
   8:00 am + Robert Burton – int. Jim & Cyndi Newcombe
 10:30 am – Living and Deceased Members of the St. Kazimierz Society
   2:00 pm – Gorzkie Żale
Monday, March 2 :
   8:00 am + Gregory Sojka – int. John and Ted Sojka Families
Tuesday, March 3 [St. Camillus & Peregrine Novena/St. Katharine Drexel]: 
  5:30 pm + Charles Burton – int. Jim & Cyndi Newcombe
Wednesday, March 4 [St. Jude Novena/St. Kazimierz]:
  5:30 pm + In Memory of the Seagos – Lucinda, Nicholas, Martin, Demetria, Peter
        (3rd anniversary) – int.. Nancy Faller
Thursday, March 5 :
  5:30 pm + Health & Blessings for Betty Fritz– int. Family
First Friday, March 6 :  (The Lance and the Nails)
   5:30 pm + Alice & Chris Evans – int. Jim & Cyndi Newcombe
Stations of the Cross will follow the Mass
First Saturday, March 7 [Saints Perpetua & Felicity]:
   8:00 am + Frank Provencal – int. Eichorns
Litany of Loretto and First Saturday Devotions
   4:00 pm + Helen Christian – int. Jamie and Sherry Yagodzinski & Family
   6:00 pm (Spanish) – For our Parish and Parishioners
Sunday, March 8 [Second Sunday of Lent]:
   8:00 am + Phyllis Knittel – int. Niece
 10:30 am – Barbara and Edgar Cook – int. Jim & Cyndi Newcombe
   2:00 pm – Gorzkie Żale
GORZKIE ŻALE, the chanting of the passion of our Lord, will take place on Sunday, March 1st and on all the Sundays of Lent at 2:00 p.m.  This weekly devotion follows Jesus and Mary to the sufferings of Calvary.  Bilingual books are provided.
TUESDAY, MARCH 3rd is the Feast of Saint Katharine Drexel who died in 1955.  She was a Philadelphia heiress who gave up her fortune to found an order of nuns whose main mission was to the Native Americans and African Americans.  She established 49 foundations including Xavier University in New Orleans. The Indians would call her "The Woman Who Prayed Much." She was noted for her piety, charity and spirit of self- sacrifice.  She will be remembered in the Mass at 5:30 p.m.
THE WEEKLY NOVENA TO ST. JUDE will be prayed at the 8:00 a.m. & 5:30 p.m. Masses on Wednesday, March 4th.  This is a continuing Novena and may be begun at any time. All are welcome and encouraged to come and pray for the intercession of the saint of hopeless and impossible cases.
MARCH 4th IS THE FEAST of St. Casimir (Kazimierz) of Poland often called the "Peace-Maker".  As a boy, St. Casimir had the famous historian John Długosz as a tutor from whom St. Casimir developed his great love of literature.
    Devout from his childhood, St. Casimir practiced penance regularly.  He had an athlete's distaste of anything approaching softness or self-indulgence.  His bed was often the ground and he often spent the night in prayer and meditation on the holy passion of Our Lord.
    In spite of his royal birth and position as a prince and second son of the king of Poland, St. Casimir lived and dressed simply.  He was generous to the poor, giving all he had and using his royal influence to help those in need.
    St. Casimir had a deep devotion to the Blessed Virgin Mary and frequently recited the long Latin hymn "Omnie Die Dic Mariae" which today is frequently called the Hymn of St. Casimir.  St. Casimir twice refused the royal throne, preferring to live a simple and Spartan existence of prayer and study.
    St. Casimir died a brave and holy death at the age of 23 in 1484.  Miracles were immediately reported at his tomb and at his canonization, in 1521, he was declared one of the major patrons of Poland and of youth.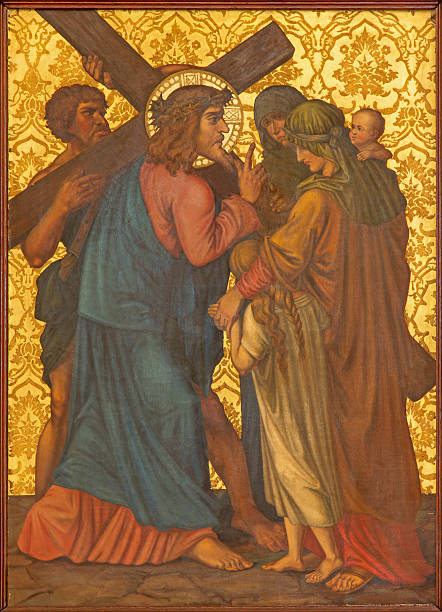 STATIONS OF THE CROSS will be prayed immediately following the 5:30 p.m. Mass on Friday, March 6th and on all the Fridays of Lent.  This devotion follows the path of love Jesus walked to His crucifixion.  The relic of the True Cross will be venerated after this service.
FIRST FRIDAY ALL NIGHT VIGIL will be held this Friday following the Stations of the Cross and will conclude with Benediction before the 8:00 a.m. Mass on Saturday.  Please consider making this act of love by spending an hour of adoration before the Blessed Sacrament. Sign-up sheets are located in the vestibule. Please Note, there will be no Holy Hour at 4:30 p.m. on account of the All-Night Vigil.
SATURDAY, MARCH 7th is the Feast of the early Christian martyrs, Sts. Perpetua and Felicity.  Both were young mothers with babies. They were arrested under the anti-Christian edict of the year 202 with a number of other fellow Christians.  They were tortured and put to death for refusing to sacrifice to the gods. They will be remembered in the Mass at 8:00 a.m.
A LENTEN CLASS ON THE CREED will continue this Saturday, March 7th.  Please join the class which will meet from 9:00 to 10:00 a.m. in the St. Therese Catechism Center.  For more information, please call Theresa Kolodziej at 413-423-3944.
  THE PRO-LIFE NOVENA will continue on Saturday, March 7th before the 8:00 a.m. Mass.  All are welcome to pray in supplication for an end to the violence of abortion and in reparation for our lack of love which makes abortion acceptable in our nation.
OUR LADY'S HOLY ICON will visit the home of Mary Kobera for a week of prayer and petition for the needs of our Parish.  We thank you for this holy work of power and love.
SUNG VESPERS in the Extraordinary Form of the Roman Rite will be offered every Sunday at 4:30 p.m., unless otherwise announced.
NEWS OF OUR SHUT-INS  If you know of anyone who is a shut-in and unable to attend Mass, or if you know of any parishioner who is in the hospital or nursing home, please notify the rectory at 413-863-4748.  We would be happy to bring them Holy Communion on a monthly basis.
NEW RECTORY OFFICE HOURS:  The Rectory Office will be open Monday thru Friday, from 9:00 a.m. to 1:00 p.m.
HOLY ROSARY SOCIETY FOOD SALE  The Holy Rosary Society of our Parish will sponsor a "TO GO MEAL" food sale on the weekend of March 7th & 8th.
WEBSITE:  ChroniclesofCzestochowa.wordpress.com  Like us on Facebook.
"Could You Not Spend One Hour With Me?"
From the writings of Saint Faustina
     O Jesus, Divine Prisoner of Love, when I consider Your love and how You emptied Yourself for me, my senses deaden.  You hide Your inconceivable majesty and lower Yourself to miserable me. O king of Glory, though You hide Your beauty, yet the eye of my soul rends the veil.  I see the angelic choirs giving You honor without cease, and all the heavenly Powers praising You without cease, and without cease they are saying: Holy, Holy, Holy.
     Oh, who will comprehend Your love and Your unfathomable mercy toward us!  O Prisoner of Love, I love up my poor heart in this tabernacle that it may adore You without cease night and day.  I know of no obstacle in this adoration: and even though I be physically distant, my heart is always with You. Nothing can put a stop to my love for You.  No obstacles exist for me…
     O Holy Trinity, One and Indivisible God, may You be blessed for this great gift and testament of mercy.  Amen.
     I adore You, Lord and Creator, hidden in the Most Blessed Sacrament.  I adore You for all the works of Your hands, that reveal to me so much wisdom, goodness and mercy, O Lord.  You have spread so much beauty over the earth and it tells me about Your beauty, even though these beautiful things are but a faint reflection of You, incomprehensible Beauty.  And although You have hidden Yourself and concealed your beauty, my eye, enlightened by faith, reaches You and my souls recognizes its Creator, its Highest Good, and my heart is completely immersed in prayer of adoration.
     My Lord and Creator, Your goodness encourages me to converse with You.  Your mercy abolishes the chasm which separates the Creator from the creature.  To converse with You, O Lord, is the delight of my heart. In You I find everything that my heart could desire.  Here Your light illumines my mind, enabling it to know You more and more deeply. Here streams of grace flow down upon my heart.  Here my soul draws eternal life. O my Lord and Creator, You alone, beyond all these gifts, give Your own self to me and unite Yourself intimately with Your miserable creature.
     O Christ, let my greatest delight be to see You loved and Your praise and glory proclaimed, especially the honor of Your mercy.  O Christ, let me glorify Your goodness and mercy to the last moment of my life, with every drop of my blood and every beat of my heart.  Would that I be transformed into a hymn of adoration of You. When I find myself on my deathbed, may the last beat of my heart be a loving hymn glorifying Your unfathomable mercy.  Amen. 
PRAY FOR VOCATIONS to the Priesthood from our Parish and for our Parish so that we might always have a Priest here to celebrate the Mass and administer the Holy Sacraments!  Please join in the Divine Mercy Chaplet to pray for vocations to the priesthood every Friday beginning at 4:45 p.m.
THE FOLLOWING MASS INTENTIONS have been sent to various Missionaries.  They will be offered as follows and you may attend the Masses here in our church as the Missionaries offer the Masses in their churches:
Sun., March 1: 8:00 – + All deceased members of the Killay/Shaughnessy Families
– int. The Shaughnessys 
Sun., March 1: 10:30 – + Bernie Fritz – int. Fritz Family
Monday, March 2: — Health & Blessings for Fr. Sean O'Mannion
                                                                                                         – int. The Shaughnessys
Tuesday, March 3: – Birthday Blessings for Michael Kobera – int. Family
Wednesday, March 4: – + Alexander & Stanislawa Klepadlo – int. Irene Klepadlo
Thursday, March 5:  Health & Blessings Fr. Charles DiMascola
                                                                                                         – int. The Shaughnessys
Friday, March 6: + All Deceased Friends – int. The Shaughnessys 
Saturday, February 29: 8:00 – Health & Blessings for Fr. Donald Noiseaux
                                                                                                      – int. The Shaughnesseys 
Saturday, February 29: 4:00 — Health & Blessings Arlene Smead – int. Sophie Fritz
PLEASE NOTE:  The above Masses not only assist the souls for whom they are offered, but they also help the Missionaries who often times receive very little help.  It also helps the people where the Masses are offered. Bóg wam zapłać!
ANNUAL CATHOLIC APPEAL Our parish has been asked to join with parishes throughout the Diocese of Springfield in support of the 2020 Annual Catholic Appeal. This year's goal is $3 million dollars. The proceeds fund 45 ministries- many that support our parish- and charities across Western Massachusetts. You can participate by praying for the success of the campaign and through your donations. Please use the response card you received in the mail OR use an envelope found in the back of the church. We ask every family to prayerfully participate. Thank you. 
THE TERESIANS – Please consider becoming a Teresian.  As we have said there is NO commitment.  We will notify everyone on the ministry list (via email) when someone is sick and in need of prayer or a visit OR dying and in need of prayer or a visit OR died and the funeral details.  It will be up to each individual/family to decide how they can minister.  No one is expected to respond to each need. If any parishioner knows of someone in need, please email Nancy Faller (nafaller@aol.com), so we can get the word out.
FORMED, A CATHOLIC WEBSITE PLATFORM:  Pulling together the best in Catholic movies, children's programming, audio dramas and books, Formed provides a trusted and engaging entertainment alternative in support of a Catholic lifestyle.  Their Bible studies, sacramental prep materials, documentaries, books and audio talks from leading Catholic experts will help you grow in understanding your faith. Link to sample video: https://watch.formed.org/videos/city-of-saints-trailer We are looking for donors to help fund a 1-year subscription for our parish.  The 1 year subscription for Our Lady of Czestochowa Parish is $999. The subscription to this website will available for all our parishioners. Please address donation checks to Our Lady of Czestochowa.  The checks can be given or mailed to: Joy Pelc, 701 Country Club Rd. 01301.
CHURCH CHOIRS:  The St. Cecilia Choir and Choristers, which sings at the Sunday 10:30 Mass and other special services, is always seeking additional singers of any experience.  We rehearse every Sunday in the choir loft following the 10:30 Mass, from 11:30 – 12:30. For information, please see Henry Gaida or e-mail hgaida@gmail.com. The Saint Gregory Choir is accepting new members with any level of experience, adults and youths. One need only have a desire to sing in the Mass. We sing sacred chant and 16th century sacred polyphony. We meet to rehearse in the choir loft every Saturday Morning at 9:30. We sing at the 8:00 Sunday morning Mass.  For more information, call Robert Heath at 772-8738.
VISIT http://diospringfield.org/Ministries/child-youth-protection/ for resources for child abuse prevention and reporting.
The Catholic Life Conference will bring Scott Hahn to Springfield
"What I love about Scott Hahn is how he sees the Catholic faith with refreshing clarity. As a convert to Catholicism, Scott Hahn had to do the work–he checked every Church teaching and tradition with Scripture and with the Early Church Fathers.  He knows the Bible inside out, knows all the papal encyclicals, and has hammered his way through Catholic belief on all fronts. It's fair to say that God has given Dr. Hahn's brilliant scholarship as a gift to all Catholics." (JD)  Hear him in person.  Take a day off during Lent to give your faith your full attention! The Catholic Life Conference is on March 21, 2020, 8:30am-5:30pm at the MassMutual Center in Springfield.  Register NOW at Catholiclifeconference.org. Or call Virginia at 413 768-0698.  The Catholic Life Conference has its first one-day conference on March 21, 2020, to give the proverbial shot in the arm to all Catholics, whether they are in the trenches, retired from the trenches, far away and just looking on; whether they are old or young, working or retired, in college or high school or grade school, whether they are holding the church together with their prayers or never praying much at all.  Don't miss this opportunity to be part of something big that God is doing right here! To register, go to our website at catholiclifeconference.org or call Virginia at 413 768-0698.
GROCERIES ARE PROVIDED by our parish for those who often come to the Rectory for help and we are often in need of the essentials.   In the Lenten spirit, you can help us to help the poor by leaving some of the following in the church vestibule: stew, soup, ravioli, crackers, baked beans, cereal, canned vegetables, spaghetti sauce, peanut butter, and jam.  All donated goods must be such as requiring no refrigeration and can be stored for a period of time. Please help those who cannot help themselves! Bóg wam wielki zapłać!
ALTERNATIVES PREGNANCY CENTER – Pregnancy Tests, Counseling, Support Services, and Post Abortion Support, All Services Free and Confidential, 466 Main Street, P.O. Box 344, Greenfield, MA  01302-0344 — (413) 774-6010
THE COMMUNITY MEAL PROGRAM continues to serve an increasing need. Our meal in January fed over 80 people. Many thanks and blessings to everyone who keeps this program running so well (and you know who you are!!).  Next meal will be Wednesday, June 3rd.  Stay tuned.
DID YOU KNOW THERE IS A LOCAL CATHOLIC YOUTH GROUP? The St. John Paul II Youth Group serves the high school youth of the local Catholic community—all are welcome. Our monthly gatherings are on the 3rd Sunday of the month, from 6:30-8:30 p.m., with other activities throughout the month. To learn more about what God is doing in the life of the teens and for a more complete schedule, email stjpiiyouthgroup@gmail.com or call Suzi & Ed Cottrill, 413-772-6062. "Love God, Love Others, Love Life."
Eternal Rest Grant Unto Them O Lord,
And Let Your Perpetual Light Shine Upon Them.
Joseph Kaminski 3/1/1966
Lawrence Kelleher 3/1/2002
Josephine M. Krol 3/1/2008
Joseph Skwarzec 3/2/1971
Josephine M Skrypek 3/2/1976
Francese M. Powers 3/2/2013
Mieczyslaw Dogzek 3/3/1927
Edward F. Bialecki 3/3/1986
Jennie V. Baranowski 3/3/1996
Stephanie M. Kaminski 3/3/1997
Harold J. McCormick, Jr. 3/3/1997
Josephine M. Ciesunski 3/3/1998
Julia Siwizki 3/4/1987
Chester C. Ostrowski 3/4/1996
Stella A. Siano 3/4/2010
Jennie Moltenbrey 3/4/2011
Demetria Seago 3/4/2017
Lucinda Seago 3/4/2017
Martin Seago 3/4/2017
Nicholas Seago 3/4/2017
Peter Seago 3/4/2017
Kartarzyna Brzozowy 3/5/1958
Adalbert Bukowski 3/5/1961
John J. Juskiewicz 3/5/1995
Fr. Peter Pagano 3/5/2015
James L. Senn 3/5/2015
Stanislaw Lazarz 3/6/1963
John Putala 3/6/1971
Christopher Kobierowski 3/6/2001
Stachia I. Plaza 3/6/2015
Anna C. Legere 3/7/2013
Henry A. Kostanski 3/7/3014
Andrew Putala 3/8/1922
Blanche Putala 3/8/1969
James J. Burns, IV 3/8/1987
Remember the Holy Souls in Your Prayers
PLEASE NOTE that every day of the month is set aside to pray for a specific priest or deacon of the Franklin County Deanery.  Please join in dedicating every day to one of the clergymen designated in our calendar. The intentions for this week are:
| | | | | | | |
| --- | --- | --- | --- | --- | --- | --- |
| Sunday | Monday | Tuesday | Wednesday | Thursday | Friday | Saturday |
| Clergy who are sick. | Fr. Campoli | Fr. Lunney | Clergy in Purgatory | Fr. O'Mannion | Deacon DeCarlo | Fr. Roach |
THIS BULLETIN is sponsored by the St. Stanislaus and St. Kazimierz Societies.