JMJ
+ Parish Schedule for the Week of March 8, 2020 +
Sunday, March 8 [Second Sunday of Lent]:
   8:00 am – Phyllis Knittel – int. Niece
 10:30 am + Barbara and Edgar Cook – int. Jim & Cyndi Newcombe
   2:00 pm – Gorzkie Żale
Monday. March 9 [St. Francis of Rome]: 
   8:00 am + Cecile G. Sojka – int. John & Ted Sojka Families
Tuesday, March 10 [St. Camillus and St. Peregrine Novena:
   5:30 pm – + Stanislaus J. Sojka – int. John & Ted Sojka Families
Wednesday, March 11 [St. Jude Novena]:
   5:30 pm + Holy Souls in Purgatory – int. Melissa Wright
Thursday, March 12:
   5:30 pm + Todd Newcombe – int. Jim & Cyndi Newcombe
Friday, March 13:   (The Holy Shroud)  
   5:30 pm + Anna Sojka Barry – John & Ted Sojka Families
Stations of the Cross will follow the Mass
Saturday, March 14:
   8:00 am + Arnie Gartman – int. Sister
   4:00 pm + Frank Provencal – int. Fritz Family
   6:00 pm (Spanish) – For our Parish and Parishioners
Sunday, March 15 [Third Sunday of Lent]:
   8:00 am – + Bishop Christopher J. Weldon – int. Parish
 10:30 am – + Robert Newcombe – int. Jim & Cyndi Newcombe
      2:00 pm – Gorzkie Żale
+ KRÓLOWO POLSKI MÓDL SIĘ ZA NAMI +
GORZKIE ŻALE, the chanting of the passion of our Lord, will take place on Sunday, March 8st and on all the Sundays of Lent at 2:00 p.m.  This weekly devotion follows Jesus and Mary to the sufferings of Calvary.  Bilingual books are provided.
MONDAY, MARCH 9th is the Feast of St. Frances of Rome, a noble woman, wife and mother.  She founded a community to serve the poorest of the poor. There is a stained glass window of St. Frances of Rome in our church.  She will be remembered in the Mass at 8:00 a.m.
THE WEEKLY NOVENA TO ST. JUDE will be prayed at 5:30 p.m. Masses on Wednesday, March 11th.  This is a continuing Novena and may be begun at any time. All are welcome and encouraged to come and pray for the intercession of the saint of hopeless and impossible cases.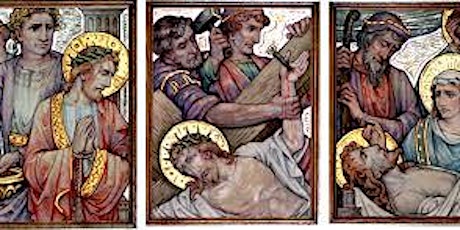 STATIONS OF THE CROSS will be prayed immediately following the 5:30 p.m. Mass on Friday, March 13th and on all the Fridays of Lent.  This devotion follows the path of love Jesus walked to His crucifixion.  The relic of the True Cross will be venerated after this service.
THE PRO-LIFE NOVENA will continue on Saturday, March 14th before the 8:00 a.m. Mass.  All are welcome to pray in supplication for an end to the violence of abortion and in reparation for our lack of love which makes abortion acceptable in our nation.
SUNDAY, MARCH 15TH Join us for a free showing of this new movie Love and Mercy: Faustina following Gorzkie Zale in the undercroft.  The movie runs just under 2 hours.  
OUR LADY'S HOLY ICON will visit the home of Carol Kabera Silva for a week of prayer and petition for the needs of our Parish.  We thank you for this holy work of power and love.
NEWS OF OUR SHUT-INS  If you know of anyone who is a shut-in and unable to attend Mass, or if you know of any parishioner who is in the hospital or nursing home, please notify the rectory at 413-863-4748.  We would be happy to bring them Holy Communion on a monthly basis.
WEBSITE:  ChroniclesofCzestochowa.wordpress.com  Like us on Facebook!
THE ST. JOHN PAUL YOUTH GROUP thanks all of you for your generosity during the chocolate sale. It was very successful. The money helps offset the costs for the Steubenville Youth Conference this summer.  What are you funding? Here is one parent's reflections on the youth conference: "The Steubenville youth conference has proven to be one of the most powerful, inspiring and faith filled experiences of my children's teen years (3 teens so far)  It has been an opportunity to not only grow in their faith, but to grow in community with other teens.  My children returned from these conferences each time with gratitude not only for the opportunity to attend, but with thanksgiving for our faith and our family. The blessings and graces received from God through this conference have been life changing and have helped my husband and I lay a stronger faith foundation in our children's spiritual lives. Such an important conference for our youth! "We have 25 teens signed up so far and we are hoping for 50, so join the fun and meet Jesus where he may be found!
SONGS, FAITH, SHARING AND ADORATION Please join us on Thursday, March 12th at 6PM at St. Michael Parish in Brattleboro, VT for songs, faith sharing, and a time of Adoration led by Father Justin and MJM7. MJM7 is a Catholic family group comprised of Michael James Mette and 4 of his daughters: Gabriella (15), Trinity (14), Charity (12), and Cecilia (11). The Mette's gifts of music, joy, & family life offer the boldness and innocence of youth with the wisdom and depth of lived experiences.  Bring a friend! You won't want to miss this unique event. Free.  Donations are accepted.

THE ANNUAL CATHOLIC APPEAL – At next weekend's Masses, we will be visited by Kathleen Harrington from the Diocese, who will make a short presentation about the important work of the Annual Catholic Appeal.  This is also "Commitment Weekend" when you will have the opportunity to make an "in-pew" donation which will be collected at each of the Masses.
GROCERIES ARE PROVIDED by our parish for those who often come to the Rectory for help and we are often in need of the essentials.   In the Lenten spirit, you can help us to help the poor by leaving some of the following in the church vestibule: stew, soup, ravioli, crackers, baked beans, cereal, canned vegetables, spaghetti sauce, peanut butter, and jam.  All donated goods must be such as requiring no refrigeration and can be stored for a period of time. Please help those who cannot help themselves! Bóg wam wielki zapłać
ALTERNATIVES PREGNANCY CENTER – Pregnancy Tests, Counseling, Support Services, and Post Abortion Support, All Services Free and Confidential, 466 Main Street, P.O. Box 344, Greenfield, MA  01302-0344 — (413) 774-6010 
VISIT http://diospringfield.org/Ministries/child-youth-protection/ for resources for child abuse prevention and reporting.
With a miracle approved, beatification awaits computer programmer Carlo Acutis
Meg Hunter-Kilmer February 24, 2020
Pope Francis has approved a miracle attributed to Carlo Acutis, paving the way for his beatification, which will likely take place later this year in Assisi, where he is buried.
Venerable Carlo Acutis had a PlayStation. He made awkward videos with his friends. His favorite cartoon was "Pokémon." And before the year is out, he's likely to be beatified.It was announced Feb. 22 that Pope Francis had approved a miracle attributed to Carlo Acutis, paving the way for his beatification, which will likely take place later this year in Assisi, where he is buried. Acutis' intercession reportedly helped to heal a Brazilian child suffering from a rare condition of the pancreas in 2013.
     Acutis' mother, Antonia, doesn't know how he came to love Jesus. He'd been baptized as a baby, but the family didn't practice the Faith. Perhaps it was their Polish nanny who told Carlo about Jesus. Regardless of the source, Carlo had a deep love for Jesus even as a preschooler, asking his bemused mother if they could stop in to see Jesus when they walked past churches in their Milan neighborhood — and even insisting on taking flowers to place at the feet of the Blessed Mother.
     Antonia wasn't sure what to do with this piety in her young son, and she wasn't prepared to answer his many questions. But as he asked, she began to wonder as well. His curiosity eventually prompted her to take theology classes; beyond just being back at Mass, Antonia was diving into her faith, and all because of Carlo. "He was like a little savior for me," she said in an interview published last year on the website Aleteia.
Fostering a love of the Faith
     Carlo's longing for the Eucharist drove him to ask permission to receive earlier than was customary. At 7, Carlo received his first Communion and never missed Mass again. Not just Sunday Mass, either. Every day of his life, Carlo went to Mass. Every day, he stole a few minutes to pray in silence before the tabernacle. And while his parents sometimes went with him, Carlo often went alone. When they traveled, Carlo's first order of business was to find a church and figure out Mass times. Whether or not his parents joined him, Carlo would be there. Every day.
And they traveled quite a bit. Carlo's deep love of Mary (whom he called "the only woman in my life") led the family to Marian apparition sites all over Europe. But their pilgrimages became more intentional when Carlo was 11 and got an idea.
     After receiving his first Communion, Carlo had begun to lament the many, many people who don't go to Mass. "They'll stand in line for hours to go to a concert," he would say, "but won't stay even a moment before the tabernacle." Eager to do something to draw souls to Jesus, young Carlo began to research Eucharistic miracles. He was convinced that people wouldn't be able to stay away from the holy Mass if they knew about the miracles of Lanciano and Poznan and the dozens of others recognized by the Church. So Carlo began to research, dragging his parents from one shrine to another in order to take pictures for the website he was building.
     This was only 2002, but Carlo was something of a prodigy when it came to technology. When he was only 8 or 9, he had gotten a hold of a university-level computer science textbook, using it to teach himself to code. From there, he moved into animation and video editing, making videos with his friends and dubbing voice-overs on videos of his dogs. Carlo had the tech savvy, the information and the drive — the resulting website documenting nearly 150 miracles eventually developed into an exhibit that has traveled the world. 
Caring for those around him
     But Carlo was no computer geek closeted in a back bedroom. For all his technological skill, Carlo was a friendly, outgoing kid. He was so friendly that his family was reluctant to go on walks with him; Carlo knew everybody, it seemed, and couldn't help but stop to talk to every person he passed. He had a sensitive heart and was always looking out for those who were suffering: classmates whose parents were going through a divorce, kids who were being bullied.
     Carlo's approach was always friendship. And through that friendship, people were always drawn to Jesus. As pure and as pious as he was, nobody felt judged by the young saint. His uncle says that being with Carlo filled your heart. And that joy left people seeking and wondering, as Carlo's mother had years before. A young Hindu man who worked for Carlo's family was baptized as a direct result of his friendship with Carlo, while many others returned to the Faith.
     Carlo was particularly close to the homeless people in his neighborhood, packing up food most days to take out to his friends on the street. Though his family was wealthy, Carlo had no patience for excess. He saved up his pocket money to buy a sleeping bag for a homeless friend, and when his mother suggested they buy Carlo such "luxuries" as a second pair of shoes, he revolted. Technology, though, wasn't a luxury. It was an important part of his apostolate, and Carlo had no qualms about using three computers when building his website.
     Through all this, every day: Mass, the Rosary, silent time before the tabernacle. Carlo insisted that holiness was impossible otherwise. "The Eucharist is my highway to heaven," he would say, and nothing could get between him and his daily appointment with the Lord. "The more we receive the Eucharist, the more we will become like Jesus," Carlo said.
 'I can die happy'
     How did he have the time? In between teaching himself to code, playing soccer, riding his bike around Milan to visit the poor, teaching himself the saxophone, patiently explaining technology to his older relatives and making one movie after another? According to his mother, Carlo didn't waste time on useless things. He limited himself to an hour a week of video games (because, he said, he didn't want to become a slave to them) and focused the rest of his time on things that were valuable. But that didn't exclude silly animations or videos of his dogs — Carlo knew that something doesn't need to be catechetical to be valuable, and he enjoyed leisure all the more because its greatest value was in being fun.
     Carlo hungered for heaven. "We have always been awaited in heaven," he said, and throughout his life his eyes were fixed on eternity. So when, at 15, he went to the hospital with the flu and was diagnosed instead with an acute and untreatable leukemia, Carlo wasn't upset. He was ready to go home. "I can die happy," he told his mother, "because I haven't wasted even a minute on things that aren't pleasing to God."
     Within three days, Carlo Acutis was dead.
     He was a remarkable young man, but he was an ordinary man. He had no visions. He didn't levitate when he prayed. He just lived like heaven was real. He was completely himself, video games and computer programming and all, but entirely Christ's.
     On his website, Carlo wrote a list of instructions for becoming holy, encouraging people to go to Mass daily and confession weekly. But his very first rule for becoming holy was this: "You must want it with all your heart."
     This is the legacy of Venerable Carlo Acutis: an ordinary, modern kid who watched cartoons and used the internet and wanted holiness with all his heart. This is why the world loves him. Because he shows us that holiness is possible. For every one of us. Even if you have an Instagram account. Even if you're a gamer.
     Carlo Acutis was born in 1991. That fact alone is a testimony: Holiness is possible. For you. Right now.
     But you have to want it.                     osvnews.com
The Catholic Life Conference set for March 21 at the Mass Mutual Center in Springfield will include a special exhibit on Eucharistic Miracles from Carlo Acutis
DON'T MISS OUT! CATHOLIC LIFE CONFERENCE REGISTRATION DEADLINE IS MARCH 10.  On March 21 the MassMutual Center in Springfield will be filled to overflowing with Catholics from around the diocese for the Catholic Life Conference.  As the Diocese celebrates its 150th anniversary, Catholics of Western Mass are invited to come together to be reminded how good it is to be Catholic. We want to see YOU there–come be part of the blessing!  Saturday, March 21, 8:30am-5:30pm. Includes lunch and Vigil Mass with Bishop Rozanski. Speakers: Scott Hahn, Trish Short, and Hudson Byblow. Children's program with Popple. Register online by Tuesday, March 10. catholiclifeconference.org or call Virginia 413 768-0698. 
 "AN ENCOUNTER WITH JESUS AND MARY" – LENTEN TALK BY INTERNATIONAL CATHOLIC SPEAKER – ROY SHOEMAN born and raised in New York by Jewish parents who fled Nazi Germany.  In his talks Roy weaves together his personal witness testimony with discussion of the Role of Judaism in salvation history from the beginning to the end of time, as illuminated by Catholic Doctrine.  Join us to hear his presentation "An Encounter with Jesus and Mary" at Our Lady of Czestochowa on March 29, 2020 following the chanting of Gorzkie zale at 2:00 P.M.
FORMED, A CATHOLIC WEBSITE PLATFORM:  Pulling together the best in Catholic movies, children's programming, audio dramas and books, Formed provides a trusted and engaging entertainment alternative in support of a Catholic lifestyle.  Their Bible studies, sacramental prep materials, documentaries, books and audio talks from leading Catholic experts will help you grow in understanding your faith. Link to sample video: https://watch.formed.org/videos/city-of-saints-trailer We are looking for donors to help fund a 1-year subscription for our parish.  The 1 year subscription for Our Lady of Czestochowa Parish is $999. The subscription to this website will available for all our parishioners. Please address donation checks to Our Lady of Czestochowa.  The checks can be given or mailed to: Joy Pelc, 701 Country Club Rd. 01301.
CHURCH CHOIRS:  The St. Cecilia Choir and Choristers, which sings at the Sunday 10:30 Mass and other special services, is always seeking additional singers of any experience.  We rehearse every Sunday in the choir loft following the 10:30 Mass, from 11:30 – 12:30. For information, please see Henry Gaida or e-mail hgaida@gmail.com. The Saint Gregory Choir is accepting new members with any level of experience, adults and youths. One need only have a desire to sing in the Mass. We sing sacred chant and 16th century sacred polyphony. We meet to rehearse in the choir loft every Saturday Morning at 9:30. We sing at the 8:00 Sunday morning Mass.  For more information, call Robert Heath at 772-8738.
THE FOLLOWING MASS INTENTIONS have been sent to various Missionaries.  They will be offered as follows and you may attend the Masses here in our church as the Missionaries offer the Masses in their churches:
Sun., March 8: 8:00 – + Holy Souls in Purgatory – int. Maureen Filiault
Sun., March 8: 10:30 – + Living & Deceased Members of the Fritz & Klepacki Families
                                                                                                        – int. Betty Fritz
Monday, March 9: 8:00 
Tuesday, March 10: 5:30 – + Chet Galvis – int. Family
Wednesday, March 11: 5:30 – + Bernie Kabera – int. Mary Kabera
Thursday, March 12: 5:30  + Holy Souls in Purgatory – int. Betty Fritz
Friday, March 13: 5:30 Health and Blessings for Bernadette DeVito – int. Ciocia 
Saturday, March 14: 8:00 
Saturday, Marach 14: 4:00 
PLEASE NOTE:  The above Masses not only assist the souls for whom they are offered, but they also help the Missionaries who often times receive very little help.  It also helps the people where the Masses are offered. Bóg wam zapłać!
FOR LENT: THE CATHOLIC LIFE CONFERENCE
Forgiveness. Is it possible?  Acceptance. Can I find it? Weariness. Is there an antidote?  Hurt. Is there an answer? The Catholic Life Conference asks "Why are YOU Catholic?"  and presents one big day together with these questions in our hearts. TOGETHER we will seek encouragement for our needs, together we will hear speakers who can share from their lives, and together we will experience God drawing near to us in the Sacraments.  We are in this TOGETHER. The Catholic Life Conference, MassMutual Center, Springfield, March 21, 2020, 8:30am-5:30pm. This is for you and those you love, Catholics of Western Massachusetts! Register today! catholiclifeconference.org
Eternal Rest Grant Unto Them O Lord,
And Let Your Perpetual Light Shine Upon Them.
Andrew Putala 3/8/1922
Blanche Putala 3/8/1969
James J. Burns, IV 3/8/1987
Mary Zajac  3/9/1940
Rev. Peter Samorajski 3/9/1973
Leon A. Piecuch 3/9/2016
Cecile M. Sojka 3/9/2016
Stanley Rozycki, Sr. 3/10/1998
Stanislaus J. Sojka 3/10/2003
Bernard J. Kobera 3/10/2014
Wlodysha Orerzynski 3/11/1936
Frances Szymanski 3/11/1980
Theodore (Jocko) Kortz 3/11/1997
Harvey M. Kellyhouse 3/11/2010
Eunice L. Wysk 3/11/2018
Peter Bienkunski 3/12/1943
Michael Strysko 3/12/1959
Paul P. Novak 3/12/1974
Aldea M. Dubreuil 3/12/2005
Frank W. Zak 3/12/2012
Patricia E. Yurkunas 3/13/2015
Helen Kawecki 3/13/1926
Edward Szymanski 3/13/1945
Esther O'Hara 1982
Anthony Monkiewicz 3/13/1946
Michael C. Schab 3/13/2009
Peter Dylewski 3/14/1969
Mary Bocon 3/14/1986
Victoria C. Kowalski 3/14/1998
Remember the Holy Souls in Your Prayers
PLEASE NOTE that every day of the month is set aside to pray for a specific priest or deacon of the Franklin County Deanery.  Please join in dedicating every day to one of the clergymen designated in our calendar. The intentions for this week are:
Sunday
Monday
Tuesday
Wednesday
Thursday
Friday
Saturday

Bishop Rozanski & Vocations/ 

7 p.m. Holy Hour

Our Retired Priests

Deacon Rabbitt

Fr. DiMascola

Fr. Bermudez

Pope Francis

Fr. Lisowski
THIS BULLETIN is sponsored by the St. Stanislaus and St. Kazimierz Societies.