JMJ
 + PARISH SCHEDULE FOR THE WEEK JULY 5, 2020 
SUNDAY, JULY 5: Fourteenth Sunday in Ordinary Time:8:00 am + Larry Krejmas, Sr. – int. Cyndee & Denny 
10:30 am – In honor of the Immaculate Heart of Mary – int. Bridget Patria 
MONDAY, JULY 6 [St. Maria Goretti, Virgin & Martyr]: 8:00 am + Larry Krejmas ,Sr. – int. Cyndee & Denny 
TUESDAY, JULY 7 [Novenas to St. Camillus & St. Peregrin]: 
5:30 pm + Wanda and Frank Ptak – int. daughters, Cheryl and Joyce
 WEDNESDAY, JULY 8 [Novena to St. Jude]: 5:30 pm – Deceased Members of the Hemingway & Tetreault Families – int. George & Denise
THURSDAY, JULY 9 [St. Augustine Zhao Rong, Priest and Companions, Martyrs: 
5:30 pm + Holy Souls in Purgatory – int. Melissa Wright
 FRIDAY, JULY 10: 
5:30 pm + Linda Jarvis Barber – int. Betty Fritz
SATURDAY, JULY 11 [St. Benedict, Abbot]: 
8:00 am + Genevieve Grader – int. Cyndee & Denny 
4:00 pm + Helen Christian – int. Jamie & Sherrie Yagodzinski & Family
 6:00 pm – Spanish Mass – int. for our Parish and Parishioners 
SUNDAY, JULY 12 Fifteenth Sunday in Ordinary Time: 
8:00 am + Elaine Bartus – int. Dorothy Kosewicz
 10:30 am – Grace & Blessings for the Marian Sisters of Santa Rosa – int. Ron & 
Monica Scherman 
+ KRÓLOWO POLSKI MÓDL SIĘ ZA NAMI + 
MONDAY, JULY 6th is the Feast of St. Maria Goretti who died at the age of 12. She was stabbed to death preferring to die rather than participate in sin. She died forgiving her murderer and was canonized with her mother and family present. Her murderer languished in jail for many years unrepentant until he had a vision of St. Maria Goretti who converted him. His life radically changed and he lived a life of great holiness and penance from that point on. St. Maria Goretti will be remembered in the Mass at 8:00 a.m.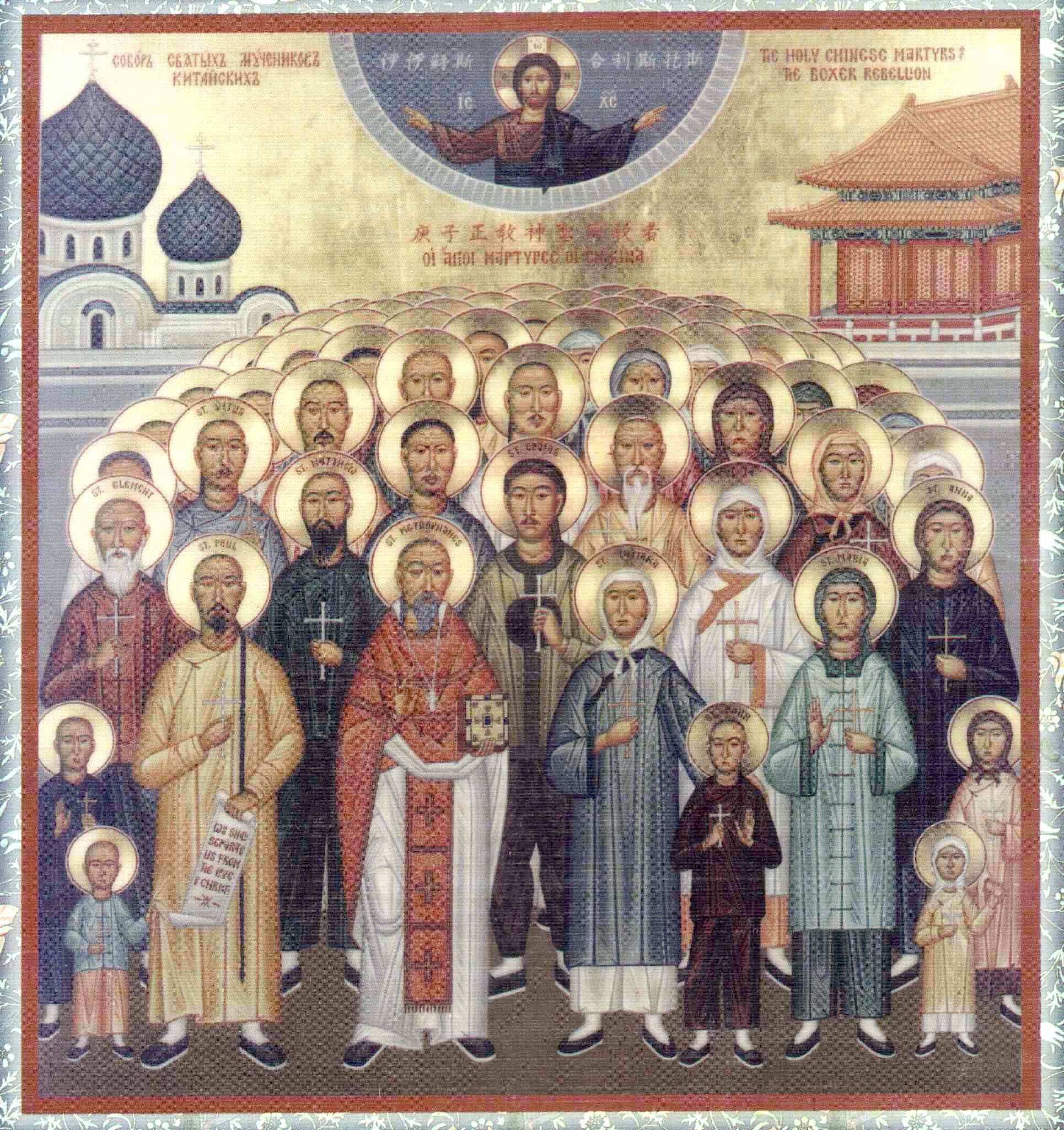 THURSDAY, JULY 9th is the Feast of St. Augustine Zhao Rong and his Companions. Augustine Zhao Rong was a Chinese priest who was martyred with his 119 companions in 1815. Among their number was an eighteen-year-old boy, Chi Zhuzi, who cried out to those who had just cut off his right arm and who were preparing to flay him alive: "Every piece of my flesh and drop of my blood will tell you that I am a Christian." St. Augustine and his companions will be remembered in the Mass at 5:30 p.m. 
SATURDAY, JULY 11th is the Feast of St. Benedict who is called the "Patriarch of Western Monasticism." He gave up a life of wealth to search for God in the solitude of a Monastic rule. He founded 12 Monasteries including the famous Monte Casino. St. Benedict is the Patron of Europe and will be remembered in the Mass at 5:30 p.m.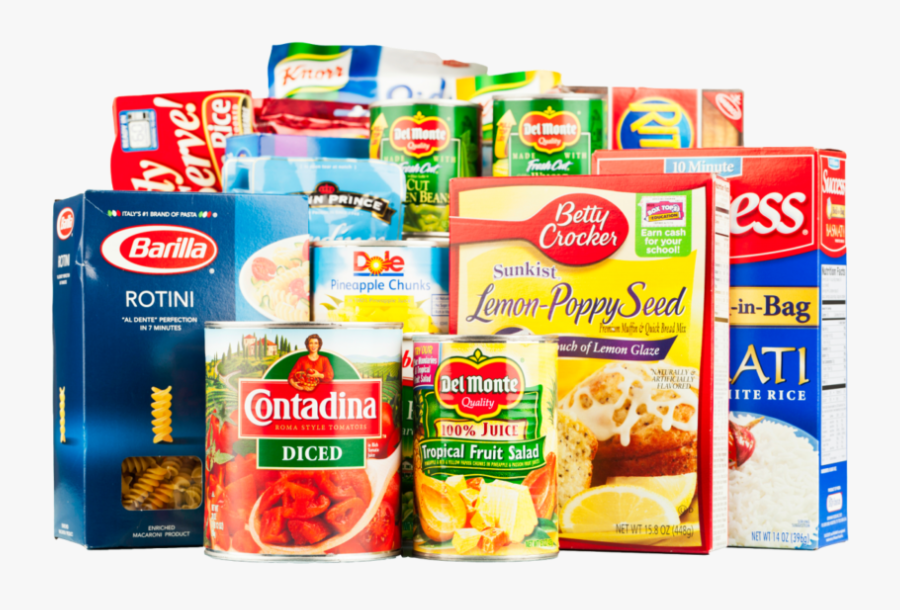 PLEASE DON'T FORGET OUR GROCERIES for the poor! Many people who are having a hard time come to the Rectory for help. Please help us to help them. It is a sad and heartbreaking thing to turn someone away when we run out of groceries! Any non-perishable items that you can spare will be greatly appreciated – canned hams, tuna fish, peanut butter, baked beans, dry milk, canned soups and stews, jam, crackers, juices, etc. Please leave them in the front vestibule of the church.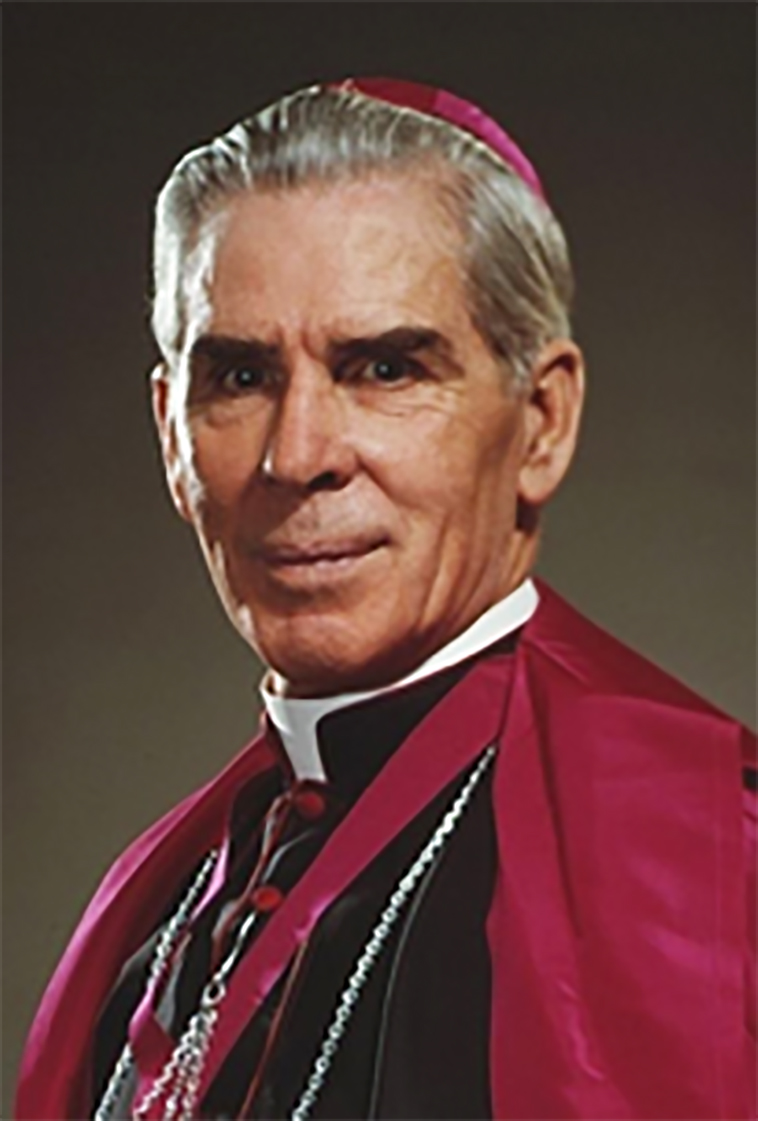 Archbishop Sheen's Warning of a Crisis in Christendom With a saintly long-ranging spiritual vision, Bishop Sheen saw the roots of today's crisis firmly planted and growing in 1974, but gave us an antidote.Joseph Pronechen
"First of all, we are at the end of Christendom," Bishop Fulton Sheen solemnly said during a television show in 1974. "Now not Christianity, not the Church. Remember what I am saying."Then he defined what he meant. "Christendom is economic, political, social life as inspired by Christian principles. That is ending —we've seen it die. Look at thesymptoms: the breakup of the family, divorce, abortion, immorality, general dishonesty."That was 1974. Today we know it's even worse with the definition of marriage and gender drawn into the picture. And the crisis within the Church.He reminded that of 22 civilizations that have decayed since the beginning of the world, 19 rotted and perished from within."We live in it from day to day, and we do not see the decline." Remember, that was in 1974. "We take it for granted—we get used to things, and almost accept them as the rule." Despite the decline blaring today, isn't that a rule? How many Catholics accept the counter message to Humanae Vitae? Sheen pointed out "the press that we read, the television that we see, is in no instance inspired by Christian principles. As a matter of fact, there is, on the part of many of us, the tendency to go down to meet the world —not to lift the world up. We are afraid of being unpopular —so we go with the mob."The good bishop noted we were living in the fourth 500-year period of Church history, explaining "the Church is not a continuing thing —it dies and rises again. It proceeds on the principle of Christ himself as priest and victim."And there comes the defeat, the seeming decay, we are put in the grave, and then we rise again. We have had four deaths in our Christian history." First Three Falls and Rises The first time the Church was in dire straits was in the fall of Rome, the first 500-year period. It had a rebirth when great saint missionaries like Augustine in England and Patrick in Ireland spread the faith.Then came a second "decay" around the year 1,000 with the Moslem invasions and the split of the Church with a schism in Constantinople."It seemed to be the end of everything. And then we came to life again," Sheen said.In the third 500-year period he said the Church became "rotten" as nuns and priests were defecting. Then came the reformers who "almost always reform the wrong things.
And they began reforming the faith, and there was nothing wrong with faith —it was the morals that needed to be reformed. It's not renewal —it's really a moral reformation that is needed today, too." Remember, that was 44 years ago. All the more so in our day. On just one point, how many listened to, and took to heart, Humanae Vitae? Even theologians defected from it. After that period the Church came to life again, Sheen said. "And now we're at the fourth period, and we're rotting —we're spoiled —no great zeal, no great learning, no great fire." Yet there's hope because "anyone who knows history is not particularly disturbed." Church's Enemies "But the enemy in each of the 500-year periods has been separate and distinct," he continued. "We had, and here I am speaking generally of enemies within the Church, in the first 500 years, false doctrine centering around the person of Christ…the Christological heresies. So the Church was just split open, and that was one of the reasons that made it possible for the Moslems to develop." The next period saw attacks on the head of the Church, leading to the Eastern Church breaking away. By the 16th century the attack was on "the body of Christ, the mystical body, the Church." It was Reformation time.Today's 4th Enemy "Our enemy today is the world —the spirit of the world," Sheen made clear."Today we have to conform to the world or we're branded" he said. Must be politically correct. "Our Lord said,I have taken you out of the world. We say, 'No we have to win the world, and to win it you have to be one with it.' Our Lord says ,I pray not for the world. He was praying for the spirit of the world. And this is the easiest kind of way to fall off the log —worldliness. It's so simple, and it can be justified for a thousand reasons; namely, the Vatican Council said we have to go into the world —indeed, but not to be world, which is quite a different matter. So this is our attack today."Sheen saw this as "one of the basic causes of our degeneration, of our death. We're dying. What about it? What's the answer?""The answer is: these are great and wonderfuldays in which to be alive. I thank God… that I can live in these days, because these are days of testing." Since 1974 the testing pressure has increased.Sheen explained it was easy to be Christian in the three decades before his talk. "The atmosphere was Christian; morals were Christian; there was no great problem in adapting ourselves to a Christian society. But now, when everything is turned around, these are days when the masks have got to come off, and we reveal ourselves just as we really are.""Todaythe current is against us. And today the mood of the world is, 'Go with the world, go with the spirit.' Listen, dead bodies float downstream. Only live bodies resist the current. And so the good Lord is testing us.""And he is testing Western Christians with worldliness, and how many of us are falling?" Would Bishop Sheen be surprised on how far the decadence and corruption have piled up?He gives the example of the Israelites being tested by God in the desert. "That is what he is doing to us. We are showing what we really are now," Sheen said. "St. John says in his Epistle: 'They did not love us really from the beginning. That is why they left us.' And so the souls that are falling away have just failed to meet the test. It is very much like the test that the Jews had."
The farsighted bishop highlighted how the majority of Israelites scouting the Promised Land told the people they couldn't enter because the dwellers there were too strong. But "the majority is not always right!" Only Caleb and Joshua, "the minority report," disagreed. They were right.Sheen warned "what we are going to have in the Church is a minority report: a minority report of sisters, a minority report of priests, a minority report of laity —not the minority that is aggressive and troublemaking, but the minority that like Caleb and Joshua, trusts in God. So we are tested just as the Jews were tested."He went on, "not far after our time, and perhaps in the time of some, then will come the battles and the testing. Our Lord said,Satan would sift you as wheat. And we are being sifted as wheat. So we can all thank God that we live in these days. Really, it's beautiful. Now we can say, 'aye' or 'nay,' and we can bear up under assault, criticism and ridicule, because this is the lot of the Christian in the days of the spirit of the world."Surprising, Unexpected Advice The saintly bishop made clear the situation was really not "gloomy."Why? Because "it is a picture of the Church in the midst of increasing opposition from the world. And, therefore, live your lives in the full consciousness of this hour of testing, and rally close to the heart of Christ." Be the "minority."He really had ears perked up with his next revelation and recommendation."And if there is anything that has to be restored in our day, I would say it would be violence. Violence! The kingdom of heaven is won by violence. And only the violent shall conquer it."Shouldn't it be about peace? Let's hear the great Bishop Sheen explain. And Biblically too. He observed how when the Church drops things, the world picks them up but twists them in the wrong way. For example, mysticism drops, and the young turn to pharmaceuticals and drugs."And we drop violence, discipline, commitment to the Cross, and the world picks it up…That's why there's no stopping the violence of this country. We just have to…hire more police guards, build more hospitals for the addicts. Why? Because there's no moral reason on the inside why they should stop."Isn't he right on today's beam? What's the usual first response? More government spending and more laws will fix the problem. Uh huh.Sheen explained, "Our Blessed Lord said I have come to bring the sword.Not peace! We are always talking about peace, peace, peace! Yes, because that war (World War II, Korean War, etc.) happened —but we aren't making war in ourselves —and there's not going to be any peace in the world until we make war. Our Lord said,I came not to bring peace, but the sword! He never used the word 'peace' until after Easter." "The Lord brought a sword. It's not the sword that's thrust outward against the enemy. It's a sword that's thrust against ourselves, cutting out the seven pallbearers of the soul: pride and covetousness and lust and anger,envy, gluttony and sloth. And we've given up the sword —someone else has taken it up, and we have to restore it! Then we'll get peace! And peace is never corporate —it's never social —until it is first individual.Social peace, world peace, is the extension of individual peace in our hearts. When we are right with God, then we will be right with our fellow man. When are not right with God, then we will be wrong with everyone else."
He told everyone to take seriously spending an hour before theLord in the Blessed Sacrament every day "not only for our own souls, but for the world, and to strengthen our minority." It's "violence" to ourselves, easily enough understood.Archbishop Sheen emphasized, "The Lord is keeping reserves. He is training us. We'll make the entry. We'll prepare for a new Church. And he is with us —we just simply can't add rules —only we've already won as a matter of fact, only the news has not yet leaked out —and so it's violence that has to be restored." [ncregister.com]
LET US PRAY FOR A GOOD AND HOLY BISHOP – Pope Francis has accepted the resignation of Archbishop Robert J. Carlson of St. Louis and has named our Bishop Mitchell T. Rozanski of Springfield, Massachusetts, as his successor. Archbishop Rozanski will be installed during an Aug. 25 Mass in the Cathedral Basilica of St. Louis. Let us pray ardently to the Holy Spirit for a good and holy Bishop Springfield! 

THE FOLLOWING MASS INTENTIONS have been sent to various Missionaries. They will be offered as follows and you may unite your prayers to the Missionaries who offer the Masses in their churches: 
SUN., JULY 5: 8:00 + Holy Souls in Purgatory – int. Melissa Wright
SUN, JULY 5: 10:30 – Health & Blessings Dorothy Kosewicz – int. Beverly
MONDAY, JULY 6: 8:00 – Special Intention for Michael William Ahearn and 
Robert James Ahearn – int. Fritz Family
TUESDAY, JULY 7: 5:30
WEDNESDAY, JULY 8: 5:30 Health & Blessings Robert Sojka – int. Beverly
THURSDAY, JULY 9: 5:30 + Peg & Bud Shaughnessy – int. The Shaughnessys
FRIDAY, JULY 10: 5:30 + Bernie Kobera – int. Mary Kobera
SATURDAY, JULY 11: 8:00 + Souls in Purgatory – int. Betty Fritz
SATURDAY, JUNE 12: 4:00 + Patricia Collins – int. Brendan Collins 
PLEASE NOTE: The above Masses not only assist the souls for whom they are offered, but they also help you and the Missionaries who often times receive very little help. 
Bóg wam zapłać 
NEW CONFESSION SCHEDULE: SATURDAY–
MONDAY: after 8:00 a.m. Mass 
TUESDAY-FRIDAY: 4:00 p.m. – 5:00 p.m. 
Weather permitting, confessions will be heard under the canopy on the side lawn between the Rectory and the Church. In the event of rain, they will take place in the Rectory. 
ALTERNATIVES PREGNANCY CENTER – Pregnancy Tests, Counseling, Support Services, and Post Abortion Support, All Services Free and Confidential, 466 Main Street, P.O. Box 344, Greenfield, MA 01302-0344 — (413) 774-6010 
THE TERESIANS –Have you considered becoming a Teresian? As we have said there is NO commitment. We will notify everyone on the ministry list (via email) when someone is sick and in need of prayer or a visit. We pray for those who are dying and in need of prayer or a visit. We also pray for those who have died and we share the funeral details so we can reach out to the bereaved with condolence cards and prayers. It will be up to each individual/family to decide how they can minister. No one is expected to respond to each need. If any parishioner knows of someone in need, please email Nancy Faller (nafaller@aol.com), so we can get the word out 
_____________________________________________________________________ 
Eternal Rest Grant Unto Them O Lord,
And Let Your Perpetual Light Shine Upon Them. 
Theresa Y. Kennedy 7/5/1999
Joseph C. Sobieski, Sr. 7/5/2002
Josephine Mucha 7/5/2002
Stanislaus Banash 7/6/1942
Wanda Ptak 7/6/1967
John Kopinto 7/6/1980
Michelle C. Markowski 7/6/2015
Eleonore O'Hara 7/7/1935
Bernice Federowski 7/7/1973 
Wallace J. Janek 7/7/1974
Matthew M. Mucha 7/7/1981
Henry Kurtyka 7/8/1937
Antonina Wanowski 7/8/1946
Philip Przybala 7/8/1948
Stefan Kalienowski 7/8/1953
Anna A. Mucha 7/8/1979
Emilia Drązek 7/9/1975
Ignacy Chmielewski 7/10/1961 
Wladislaw Podesinski 7/10/1964
Krysiak Walenty 7/10/1971
William Wikowski 7/10/1982
Edward G. Zewins 7/10/1989
Cecelia M. Aksamit 7/10/1998
Patricia E. Milano 7/10/2005
Joseph Zywna 7/11/1963
Irene Bak 7/11/2010 
FOR THE GLORY OF GOD, and in memory of Carol Mileski a donation has been made to our Parish Renovation Fund by Tatjana Mileski. Bóg zapłać! 
HELP AND SACRAMENTS AVAILABLE FOR SICK AND HOMEBOUND – If you know of anyone who is sick or homebound in need of the Sacraments or who needs assistance with errands, please notify the rectory at 413-863-4748. 
PRAY FOR VOCATIONS to the Priesthood from our Parish and for our Parish so that we might always have a Priest here to celebrate the Mass and administer the Holy Sacraments! Please join in the Divine Mercy Chaplet to pray for vocations to the priesthood every Friday beginning at 4:45 p.m. 
PLEASE NOTE that every day of the month is set aside to pray for a specific priest or deacon of the Franklin County Deanery. Please join in dedicating every day to one of the clergymen designated in our calendar. The intentions for this week are: 
      Sunday                   Monday                Tuesday              Wednesday
Bishop Rozanski     Fr. Bermudez        Fr. O'Connor     Clergy who are sick 
         Thursday                          Friday                               Saturday
            Fr. Goni                      Deacon Patten                      Fr. Lunney
THIS BULLETIN is sponsored by the St. Stanislaus and St. Kazimierz Societies.