Welcome-Witamy 
We'd like to take this opportunity to thank you for visiting the site, as well as give you an understanding as to why this site exists.
Recently it has come to our attention of the nationwide and perhaps even worldwide interest in Polish congregations of the Catholic faith. Here in our corner of New England, Our Lady of Czestochowa stands as the center of our faith, nestled in the hills of the Pioneer Valley. Come see what it means to be Polish Catholic in the 21st century.
March 19, 2023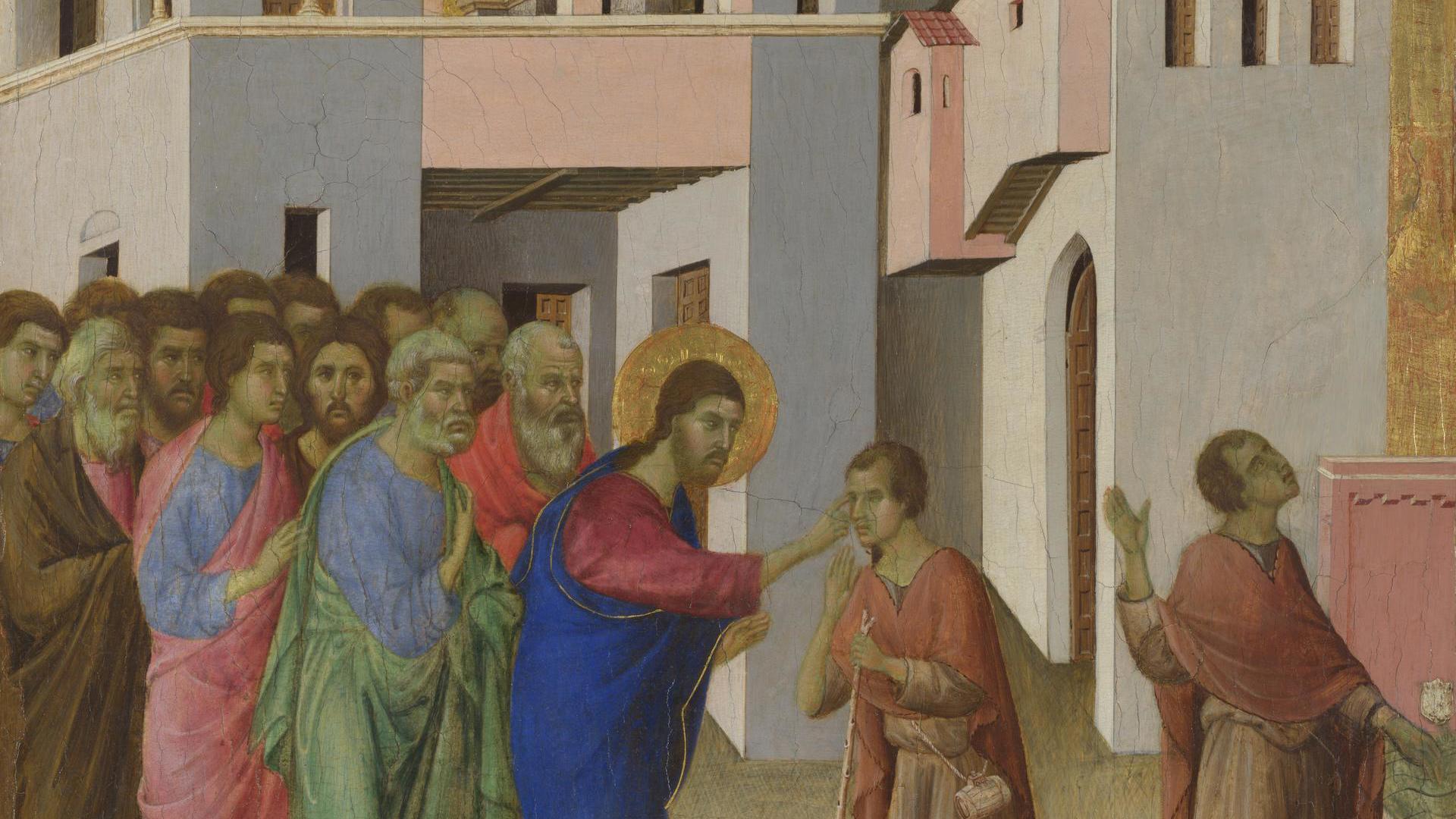 Fourth Sunday of Lent
As Jesus passed by he saw a man blind from birth.
His disciples asked him,
"Rabbi, who sinned, this man or his parents,
that he was born blind?"
Jesus answered,
"Neither he nor his parents sinned;
it is so that the works of God might be made visible through him.
We have to do the works of the one who sent me while it is day.
Night is coming when no one can work.
While I am in the world, I am the light of the world."
When he had said this, he spat on the ground
and made clay with the saliva,
and smeared the clay on his eyes,
and said to him,
"Go wash in the Pool of Siloam" —which means Sent—.
So he went and washed, and came back able to see.
His neighbors and those who had seen him earlier as a beggar said,
"Isn't this the one who used to sit and beg?"
Some said, "It is, "
but others said, "No, he just looks like him."
He said, "I am."
So they said to him, "How were your eyes opened?"
He replied,
"The man called Jesus made clay and anointed my eyes
and told me, 'Go to Siloam and wash.'
So I went there and washed and was able to see."
And they said to him, "Where is he?"
He said, "I don't know."
They brought the one who was once blind to the Pharisees.
Now Jesus had made clay and opened his eyes on a sabbath.
So then the Pharisees also asked him how he was able to see.
He said to them,
"He put clay on my eyes, and I washed, and now I can see."
So some of the Pharisees said,
"This man is not from God,
because he does not keep the sabbath."
But others said,
"How can a sinful man do such signs?"
And there was a division among them.
So they said to the blind man again,
"What do you have to say about him,
since he opened your eyes?"
He said, "He is a prophet."
Now the Jews did not believe
that he had been blind and gained his sight
until they summoned the parents of the one who had gained his sight.
They asked them,
"Is this your son, who you say was born blind?
How does he now see?"
His parents answered and said,
"We know that this is our son and that he was born blind.
We do not know how he sees now,
nor do we know who opened his eyes.
Ask him, he is of age;
he can speak for himself."
His parents said this because they were afraid of the Jews,
for the Jews had already agreed
that if anyone acknowledged him as the Christ,
he would be expelled from the synagogue.
For this reason his parents said,
"He is of age; question him."
So a second time they called the man who had been blind
and said to him, "Give God the praise!
We know that this man is a sinner."
He replied,
"If he is a sinner, I do not know.
One thing I do know is that I was blind and now I see."
So they said to him,
"What did he do to you?
How did he open your eyes?"
He answered them,
"I told you already and you did not listen.
Why do you want to hear it again?
Do you want to become his disciples, too?"
They ridiculed him and said,
"You are that man's disciple;
we are disciples of Moses!
We know that God spoke to Moses,
but we do not know where this one is from."
The man answered and said to them,
"This is what is so amazing,
that you do not know where he is from, yet he opened my eyes.
We know that God does not listen to sinners,
but if one is devout and does his will, he listens to him.
It is unheard of that anyone ever opened the eyes of a person born blind.
If this man were not from God,
he would not be able to do anything."
They answered and said to him,
"You were born totally in sin,
and are you trying to teach us?"
Then they threw him out.
When Jesus heard that they had thrown him out,
he found him and said, "Do you believe in the Son of Man?"
He answered and said,
"Who is he, sir, that I may believe in him?"
Jesus said to him,
"You have seen him,
the one speaking with you is he."
He said,
"I do believe, Lord," and he worshiped him.
Then Jesus said,
"I came into this world for judgment,
so that those who do not see might see,
and those who do see might become blind."
Some of the Pharisees who were with him heard this
and said to him, "Surely we are not also blind, are we?"
Jesus said to them,
"If you were blind, you would have no sin;
but now you are saying, 'We see,' so your sin remains.
Prayer for Peace to Mary, the Light of Hope
Immaculate Heart of Mary, help us to conquer the menace of evil, which so easily takes root in the hearts of the people of today, and whose immeasurable effects already weigh down upon our modern world and seem to block the paths toward the future.
From famine and war, deliver us.
From nuclear war, from incalculable self destruction, from every kind of war, deliver us.
From sins against human life from its very beginning, deliver us.
From hatred and from the demeaning of the dignity of the children of God, deliver us.
From readiness to trample on the commandments of God, deliver us.
From the loss of awareness of good and evil, deliver us.
From sins against the Holy Spirit, deliver us.
Accept, O Mother of Christ, this cry laden with the sufferings of all individual human beings, laden with the sufferings of whole societies. Help us with the power of the Holy Spirit conquer all sin: individual sin and the "sin of the world," sin in all its manifestations.
Let there be revealed once more in the history of the world the infinite saving power of the redemption: the power of the merciful love.
May it put a stop to evil.
May it transform consciences.
May your Immaculate Heart reveal for all the light of hope
Amen~
(Pope John Paul II)
Please note: There are no AA meetings until further notice. Thank you for your  patience.
For  policies and information regarding the  Diocese's  Safe Environment Program, please click on the following link:
Also, this is a useful resource from Praesidium, the organization that produces "Called to Protect for Youth" training
     Join the Crusade for Purity
"To preserve Purity, three things are necessary; the Presence of God, prayer and the Sacraments; and again, the reading of holy books-this nourishes the soul" – St. John Vianney – Catechism on Purity ( Monnin's Life).
 Lust kills love, human and Divine.It is a chief cause of war here, misery hereafter.
By Thine Immaculate Conception, O Mary, make my body pure and my soul holy. Three times, followed each time by a Hail Mary.
My Mother, keep me this day from mortal sin. Hail Mary, three times.
                          From the Jesus, Mary, Joseph Novena Manual
Pope Francis Monthly Prayer Intention
March
For victims of abuse
We pray for those who have suffered harm from members of the Church; may they find within the Church herself a concrete response to their pain and suffering.